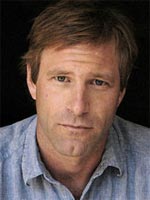 Now this, to my mind, is a star pairing that really makes sense. Nicole Kidman has been attached for some time to star in the screen adaptation of "Rabbit Hole," David Lindsay-Abaire's stage play that was awarded the 2007 Pulitzer Prize for Drama. Aaron Eckhart is now reportedly in talks to play opposite her.
The project represents a major dramatic opportunity for both stars: the play, which is said to be funnier than the thematic material suggests, revolves around a happily married couple forced to re-evaluate their relationship when their young son is killed in car accident. Cynthia Nixon (who won a Tony for her efforts) and John Slattery originated the roles on Broadway — I guess it's fair to say the casting has been prettied up for film, but what's new?
Personally, I'm excited at the prospect of Eckhart getting a role with some significant emotional range to tackle, and for some reason, I imagine his everyman quality and Kidman's nervous reserve complementing each other nicely. Kidman, meanwhile, continues to choose the most interesting projects but it's been a while since she had a really meaty dramatic lead in this vein — I'd love to see her pull something sufficiently riveting out the bag to stem the (unwarranted, in my opinion) backlash against her.
Meanwhile, the project may be an even more intriguing proposal for its director than for its stars. John Cameron Mitchell's "Hedwig and the Angry Inch" and "Shortbus" have won him a legion of admirers, but this promises to be a very different kettle of fish from those gleefully in-your-face efforts. I'm intrigued to see what he does with more muted material that he hasn't originated himself. (Lindsay-Abaire will be adaptating his own work.) One to watch, for sure.