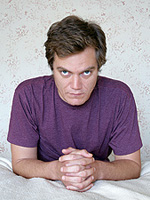 Lots of acting decisions being made today.  Despite the "holiday," it's all legit, too.  Well, I can't vouch for /Film's points us to the news that a trio of thesps joining Christopher Nolan's "Inception" (each of them listed as "in talks").  According to Variety, Cillian Murphy, Marion Cotillard and Ellen Page are circling the project (and I'm dying to get my hands on that script, by the way).  I wouldn't mind seeing these three pan out.
Elsewhere, Michael Shannon joins Mickey Rourke as the second of this year's Oscar nominated acting class to sign up on a comic franchise.  Shannon and "Arrested Development" star Will Arnett have both been cast in Jimmy Hayward's "Jonah Hex" among an ensemble that already includes Josh Brolin (in the title role), John Malkovich and Megan Fox.
I'm stoked for Shannon even without knowing the specific role he'll take in "Hex."  Knowing the world of that comic book series, however, I expect he'll find a nice home for one of his trademark off-kilter portrayals.  Arnett is a weird fit but, well, we'll see.  I just want the movie to be good.  After "Watchmen," studios will likely start scrutinizing the wisdom of comic book adaptations.  I don't want something like "Hex" to come along, screw the pooch and do the very same thing to westerns.