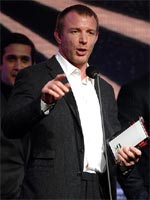 Except maybe the occasional president. And, okay, a reality-TV contest or two. But film awards — no. As spectacularly wrong as organizations like the Academy, and the odd critics' groups, can get it sometimes, nobody can rival the collective movie-going public for sheer cluelessness when it comes to determining the best of the art form.
Case in point: the Empire Awards, voted for by readers of the eponymous film magazine, which took place in London on Sunday. Of course, it's a fluffy, meaningless ceremony — a good excuse for a party more than anything else — but their choices are, nonetheless, a worrying barometer of just how low independent and/or adult-oriented cinema lies on the radar of most cinemagoers.
Exhibit A, and the real groaner of the night: the public's choice for Best British Film. While the rest of us have been singing the praises of, say, "Hunger" or "In Bruges" (both nominated, rather miraculously in the case of the former), the Empire readership apparently lives in some parallel universe where the best that British cinema had to offer in 2008 was, er, "RocknRolla."
You'd hardly expect a film as challenging and specialized as "Hunger" to take a public award, but "In Bruges" occupies precisely the same genre territory as Guy Ritchie's dismal last effort, with the crucial difference that it does so with wit, intelligence and a modicum of originality. It's hardly news that the public doesn't place much stock in such virtues, but it's depressing all the same.
Not all their choices are that bad. It's neither surprising nor particularly bothersome that "The Dark Knight" should take Best Film and Best Director — those kind of public-voted accolades are a just acknowledgment of the film's monumental crossover impact. (We'll just ignore the all-round weirdness of it losing the "Best Sci-Fi/Superhero" category to, uh, "Wanted.") But who in their right minds votes for Christian Bale as Best Actor for the same film, ahead of Daniel Day-Lewis or even Robert Downey Jr? (Yes, eligibility is based on the UK release calendar, hence the preponderance of 2007 titles in the mix — including Helena Bonham-Carter taking Best Actress for "Sweeney Todd," which is a bizarre enough choice as it is.)
Of course, it's not to be taken seriously — this is a ceremony, after all, that nominates Olga Kurylenko for Best Actress and gives out such hyperbolic categories as "Best Actor of Our Lifetime." (Russell Crowe, since you ask.) But when people chide the Academy Awards for being out of step with the public's taste (hell, I know I have), it's worth remembering that things could be a lot worse.