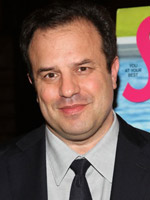 Okay, it should be noted at the top that director Rod Lurie's op-ed against the more-in-the-news-than-ever Nikki Finke is running on Sharon Waxman's website, The Wrap, and that Waxman and Finke have been at each other's throats, it seems, for a while now.  The dust on that journalist cat fight was kicked up once again last week, following a media back-and-forth that I briefly recounted here.
What Lurie's piece does signify, however, is one of if not the first public shot across Finke's bow from someone on the other side of the line, a working filmmaker in the business, albeit a former journalist who recognizes the danger of Finke and her deplorable practices.  I really hope there will be more.
Lurie starts out thusly:
Right now there seems to be a new kind of insidious power in journalism: the independent reporter/blogger. In many cases, these are people who purport to run news items, "scoops," as they call them, in a shoot-first-and-do-the-interview-later kind of way.
Alright.  Nothing new, nothing old.  But then it gets a little personal for him:
The wannabe Murrows have become the de facto McCarthys — carelessly lobbing accusations and innuendoes against unsuspecting victims.

This all really struck me the other day when a friend alerted me to the fact that Nikki Finke — who is one of the most-read bloggers in our entertainment community — had taken a shot at me in her column.

"Endeavor just signed its 3rd WMA client this month — director Rod Lurie. I can't fathom why any agency would be interested in this nasty piece of work who keeps hopscotching reps."

Okay, the "nasty" part is her opinion and God bless. However, before the day this was posted, I think I had spoken to Ms. Finke once in my life on the phone. It was a short and cordial conversation as I recall.
Lurie then goes on to convey his side of things on the Endeavor/William Morris matter, then present another case of Finke's sloppy reporting when it came to a story involving his work on television's "Commander in Chief."  He also digs in with the expected thoughts (thoughts not simplified in print often enough, to be honest) that Finke is "emblematic of a true danger that now exists in journalism: the unchecked reporter."
Like I said, I hope others in the industry take Lurie's lead and speak out on this.  Right now it's journalist versus journalist for the most part in a battle that can't help but seem competitive more so than righteous.