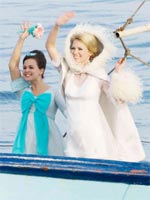 I mentioned last week that I had reservations about Richard Curtis's new comedy "The Boat That Rocked," which opens here in the UK on Friday. Every inch of the film's marketing thus far (and there's been a lot of it) gives me the impression of a talented team trying aggressively hard to have fun, but it all looks too calculated for my liking.
And the tepid trade reviews the film is getting seem to suggest I had reason to be suspicious. Screen International strikes with the sharpest claws, going so far as to describe it as Curtis's "personal Titanic." (And they aren't referring to the 1997 blockbuster, either.) Fionnula Halligan writes:
There's no sign of anyone in charge of this bloated Working Title vessel, which lurches and leaks its way through a series of flimsy setpieces before gracelessly coming to a watery grave … Problematic 134-minute running time turns what should have been a breezy comedy about radio broadcasters on a pirate ship into a draining experience and notices/word-of-mouth are unlikely to be forgiving.

What transpires on Curtis's Radio Rock feels historically bogus (would a DJ in 1966 really say "this will make you moist"?), if visually accurate. But what is most striking is the wasted opportunity here: surely life on the real Radio Caroline must have thrown up far more dramatic and comedic potential than Curtis is able to take on board here.
Variety is somewhat kinder, but not wildly enthused either:
Pic generally stays afloat on the strength of its characters but sometimes threatens to sink under its overlong running time and vignettish structure … After a lively opening hour, the pic starts to lose its sparkle as Curtis tries to develop the subplots at the expense of the script's comic buoyancy; the film could easily lose a half-an-hour, to its benefit. Though the tempo picks up again in the final 40 minutes, the movie's fragile sketch structure almost breaks under the mini-"Titanic" setpiece of the final reels.
The Hollywood Reporter pretty much echoes that view, finding charms here and there, but seizing upon the film's overlength — and ultimately employing further sinking-ship metaphors. (Well, they were asking for it with that title.)
Given the widespread animosity toward Curtis in his home country, I'm counting on an even harsher reception from the UK press in a few days' time. (Time Out has already got stuck in: "cripplingly self-conscious and self-satisfied," an "overlong, poorly paced farrago" … you get the idea.)
Universal and Working Title will probably be hoping the five-month gap between the film's UK and US release dates will be enough to bury this kind of bad press. But if you had any awards hopes sailing on this particular boat, I'd disembark fast.