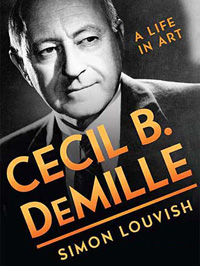 My wife has often called film my heroin, as I confess to be more than just a little bit addicted. When not watching and writing about cinema, I can usually be found either in our family room in the winter months or on the deck by the pool in the summer with the latest new film book or biography in my hand.
I have always loved reading, discovering Classics Illustrated, that incredible comic book series at a young age in the 1960s, and laying eyes on the first Famous Monster of Film Land shortly after that. My grandmother took me to the library where I followed a sign that said "film." Thinking they were showing a movie, I wandered over and found an entire floor devoted to books on movies.
Talk about a wet dream for that 11- or 12-year-old kid! She got me my own library card and I took out six or seven books at a time, focusing on my first love at the time, horror, and then absorbing John Wayne, Elia Kazan, John Ford, Orson Welles, everything I could find.
As a film critic and published author, I receive many film-related books to read and comment on, which I do when time permits. So I thought I might share some of the best reads I have enjoyed lately in this week's column.
"Victor Fleming: An American Master" by Michael Sragrow is the best film biography I have read in a long, long time, likely since Richard Schickel's seminal work on Elia Kazan. Fleming, of course, is the director behind two of Hollywood's most essential classics: "The Wizard of Oz" and "Gone With the Wind," both in the same freakin' year. He was a man's man, who took no garbage from anyone and was known to bully the talent into doing their job. The research for this book is superb because Fleming left no personal papers, making the writer's job a massive jigsaw puzzle, but one he finished to utter perfection. A master work of a bio.
David Sheward's biography of George C. Scott, "Rage and Glory," is also very good, but not on the level of the Fleming book. Sheward gives us a lot of information we already knew, but does provide some insights into a deeply flawed man who funnelled his rage into his work when he could. Scott was an enormously gifted actor who did not understand himself at all. His treatment of his wives was harsh, abusive in fact, leaving one to wonder why they ever stayed with him in the first place. Great actor, but as a person, Sheward's book paints an awful picture of the man.
Eric Lax gave us "Conversations with Woody Allen," a superb collection of discussions and conversations Lax has had with the director over the years. Very likely the most insightful and honest piece of work on Allen you will ever encounter, I could not put this one down and have read it two or three times since. Reading Allen's opinions of his actors, how he works with them, how the films develop, how the screenplays get written — pure magic.
Seeing as it was "The Ten Commandments" that forever hooked me on film, first seen at a re-release in 1971 or 1972, in the days before video, I try to read everything I can get my hands on about the film's director, Cecil B. DeMille. Likely the finest bio I have read about the man was Simon Louvish's "Cecil B. DeMille: A Life in Art," in which the writer makes clear DeMille believed himself to be a consumate artist rather than the master showman he really was. Pious, arrogant and self-absorbed, he gave us some outstanding films and some real turkeys. But I'll be damned if that parting of the Red Sea doesn't grab me every time.
"The Complete Making of Indiana Jones" is a massive book that explores the making of all four Indiana Jones films in extaordinary detail. Writer J.W. Rinzler does an amazing job of conveying detail after detail, from the creation of Indiana SMITH by George Lucas to the tiny details added by Steven Spielberg during a five day story conference in 1978. Out of that meeting was born a character who was almost played by Tom Selleck because Lucas never really wanted Harrison Ford like Spielberg did. Lots of storyboard accompaniments as well.
There are two books coming up on the great Hal Ashby, the first entitled "Being Hal Ashby," by Nick Dawson. Penetrating, insightful, with keen and precise discussions of each of the director's films, this book is a celebration of Ahsby's work and his rebellious spirit. An Oscar winning film editor for "In the Heat of the Night," he became a director at the urging of Norman Jewison, diretcing "The Landlord" to critical success.
Ashby's best films are among the finest of the 1970s, beginning with the cult classic "Harold and Maude," "The Last Detail," "Shampoo," "Bound for Glory," "Being There" and his Vietnam masterpiece "Coming Home," a film only the Los Angeles Film Critics Association had the courage to name the best of 1978. Is there any other forgotten director deserving of this sort of attention? I can't think of anyone. A second Ashby book, "The Films of Hal Ashby" by Christopher Beard, is coming from Wayne State University Press in the fall, but I must confess to knowing little about it.
When I was ten I discovered, quite by accident, John Willis's film annual "Screen World," an encyclopedia of the year's releases with a list of credits and lots of photos of the films released in the calendar year. I bought my first copy in 1973 and have bought each and every one since. "Screen World 2008" was skipped due to some sort of troubles with the content, so right now the 2007 volume, focusing on the films of 2006, is unavailable until May. It's an incredible piece of research material that I have to recommend.
What film books are you reading? What are you learning from?