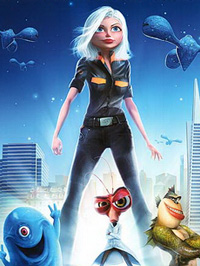 "Monsters vs. Aliens" came storming out of the gate with a $58.2 million opening this weekend. That comes from an ultra-wide 4,104 theaters, the fourth-widest release ever for a non-sequel, and that's enough to top the debuts of "Shrek," "Madagascar" and every other DreamWorks animated non-sequel aside from "Kung Fu Panda." It also handily beats the $45 million debut that "Horton Hears a Who!" managed during this same time period last year.
Paramount marketed the life out of this thing, and 3D in general, and it appears to have paid off. With a budget reportedly topping $150 million and at least another half of that spent on promotions, it will be a welcome sigh of relief for the studio brass to see that it caught on with families this week.
Last week I predicted low on "The Haunting in Connecticut" because I thought audiences might be tired of horror product. After all, this was the seventh horror film to go wide in the 13 weeks of 2009 so far. Silly me. Audiences came out in droves, earning the film $23 million and the ninth biggest debut in Lionsgate's history.
Who are these people chomping at the bit to see anything even remotely scary? Is it the same group of people seeing all of them or is there a guy out there who thinks, "'The Last House on the Left' looks lame. But 'The Haunting in Connecticut' looks awesome!" I'm pretty sure I can spoil the endings to all of them at once right now: You wasted your money.
Back in seventh place is "12 Rounds" with $5.3 mil. John Cena is clearly no Dwayne Johnson and he may not even be Hulk Hogan. Remember "Suburban Commando?" Of course you do. Anyway, this debut tallied less than Cena's debut, "The Marine," and it marks another step backward for director Renny Harlin. The man behind classics like "Cliffhanger," "Die Hard 2" and "The Long Kiss Goodnight" saw his last film go straight to DVD, and now this. I blame Geena Davis, who left him during production of his last great epic: "Deep Blue Sea."
Drops were 40% for "Knowing," 29% for "I Love You, Man" and 46% for "Duplicity." Anything less than 50% is a win for Nicolas Cage's film and "I Love You, Man" is clearly benefiting from strong word of mouth (just not from me). The drop for "Duplicity" is troubling and indicates that frothy corporate capers aren't really doing it for a recession-strapped nation.
One final note: "Watchmen" crossed the $100 million mark on Thursday, its 21st day in release. Pretty sad that it took 3 days to make $50 million and then 3 weeks to double it.
Next week we've got Vin Diesel and Paul Walker trying to resurrect their careers with "Fast & Furious." This sequel is apparently so fast and so furious that they don't even need to put "the" anywhere in the title this time. I'm sensing $46 million for this. The all-time record for an April debut is $50.4 million by "Anger Management" and if anything has a chance to dethrone it, this is the film.
Miramax goes wide with "Adventureland" and even though reviews have been apprehensively positive, I can't see it breaking out. It's got more of a "Waiting" vibe than a "Superbad" one. I think $7 million seems right but Miramax will be hoping for at least $10 million.
Finally, "Sunshine Cleaning" expands into 500 theaters or so nationwide and could sneak into the top 10. $1.8 million or so would do it and that seems feasible since it's been doing quite well in limited release.
Here is the weekend's top 10 domestic grossers, courtesy of Exhibitor Relations: