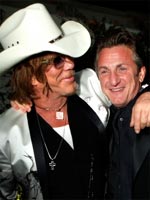 Over a month after Sean Penn defeated Mickey Rourke in what was possibly the tightest acting race in recent memory, Cinematical's Jeffrey Anderson has come up with an interesting take on how the outcome may actually benefit Rourke, and indeed "The Wrestler." In short, he says, losing the Oscar allows them to retain their edge:
The Wrestler is just a couple of months old now, but it has already gained a certain type of following. It has actual fans; people love this movie rather than just admire it. Milk has become a good movie for students to watch in school, but The Wrestler is a film that they will choose to watch, in their free time. It's a cult film now. And cult films don't win Oscars. It automatically disqualifies them from cult status. A cult film is something that people discover on their own. If the Academy acknowledges it, then it has been plucked away and turned into something official. It has a stamp of approval, and cult films are all about not being approved.
I tend to agree, and this encapsulates why the Oscars tend to be antithetical to "cult" status — films seeking the former aim for a majority vote, while films seeking the latter tend to build on minority appeal. You only need look back to, say, "American Beauty" to see how the Academy's endorsement can temper a once-venerated film's cinéaste cache, while an also-ran like "The Insider" only gains in critical stature.
As such, a loyal audience's "should have won" consensus on a film or performer can be more beneficial in the long term than an actual award: as Anderson aptly phrases it, AMPAS' choices forever become "theirs," while the beloved losers are "ours." Of course, the Academy does occasionally luck into honouring an inarguably classic, for-the-ages piece of work — but such winners don't necessarily attract the same fierce, personalised level of protectiveness from their fans.
Of course, between Rourke and Penn, it's too soon to tell whether history is conclusively going to favour one over the other. But things can change around very quickly. Three years ago, in another very high-quality contest, Philip Seymour Hoffman eased to victory over Heath Ledger — like this year, an example of a brilliant Oscar-bait performance trumping work that was no less impressive, but in a less Academy-friendly register. However, even before Ledger passed away, there has appeared to be a growing sentiment that he was robbed; that Hoffman's Truman Capote is "theirs," while Ledger's Ennis Del Mar is "ours."
Does a similar differentiation await Penn and Rourke? In my part of the world, where "Milk" strangely struggled to hit home with audiences, it seems so. In America, it remains to be seen whether the cult appeal of "The Wrestler" will prove more lasting than many viewers' considerable personal attachment to the legacy of Harvey Milk. Either way, if you love the performance, it belongs to you.