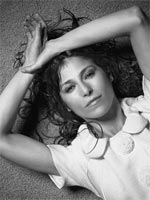 Hope Davis's recent complaint about the issue of Hollywood ageism, prompted by being offered characters well over her actual age, seems to have struck a bit of a chord this week. The Guardian's discussion of the matter was also recently picked up on in the New York Times, while Cinematical contributed to the discussion by celebrating Julia Roberts' willingness to acknowledge her over-40 status in "Duplicity."
Coincidentally enough, the issue also crops up in a recent Guardian interview with the delicious Catherine Keener. Ostensibly to publicise Michael Winterbottom's "Genova" (a sadly rather negligible work, though Keener is stellar is always), it's more of a reflective career profile, opening with the staggering (to me, anyway) revelation that she is 50 years old. (Seriously?!) Here, she describes the pleasures of ageing as a character actress rather than as a movie star:
"Interesting characters are pretty rare if you really want to be the lead. That's the usual complaint of actresses my age, and they're not wrong. They depend on you being beautiful. Since I'm not cast for my physicality, I'm not that interested in those parts. I find that playing so many characters in so many films is a way to stay in the moment."

She says she feels sisterly towards other women actors her age, and would concur that Hollywood remains ageist and sexist, especially when it comes to big-budget material. Somehow, she has found a niche that avoids these traps. She despairs a bit of the new generation of women coming up: "Everyone seems so frigging young and naive. They had some survey of younger women and they asked them what they aspired to be. The most popular answer was to be the assistant to a movie star – not the movie star, but the assistant!"
Yeah, as if Catherine Keener isn't sexy. Anyway, she's a really smart, engaging interviewee; read the rest here. Meanwhile, with Michelle Pfeiffer shortly to appear on our screens as Rupert Friend's decades-older seductress in "Cheri," something tells me this isn't the last we'll hear on the "older women in Hollywood" issue in the months to come.