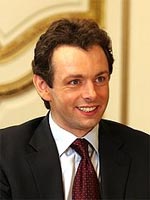 Right, so Michael Sheen obviously ignored my career advice to lay off the biopics for a while. That's okay. He's a lot more famous and successful than I am, so I guess he probably knows best.
But seriously, a third go-round playing Tony Blair in yet another factional Peter Morgan-scripted project? If you haven't heard already, "The Special Relationship" is a planned BBC/HBO collaboration covering the political allegiance between Blair and Bill Clinton at the tail-end of the century. From the Guardian:
Michael Sheen is due to return as the former prime minister for the third time, alongside Helen McCrory, reprising her Cherie Blair from The Queen. Dennis Quaid is attached to play the ex-US president, reportedly beating Russell Crowe, Philip Seymour Hoffman, Alec Baldwin and Tim Robbins to the role. Julianne Moore is lined up to play Hillary Clinton. Morgan intends to sidestep casting of Monica Lewinsky by showing the former intern solely in archive footage, including video of her closed-door testimony to Congress.
Sure, Sheen has that particular impression nailed, but what does he (or we, for that matter) stand to gain from reprising it once more? He's a gifted actor, no doubt — but I can't be the only one who'd like to see him expand his range a little. (In any case, wouldn't it be interesting to see another actor's interpretation of the role?)
Much the same, in my opinion, goes for Peter Morgan, who is apparently set to make his directorial debut with this. I'd love to see his evident grace and wit as a dramatist put to work on something loose and fictitious — perhaps even more genre-based. Anyway, kvetching aside, I'm sure this will be a typically classy, intelligent effort. Just wake me when it's over.