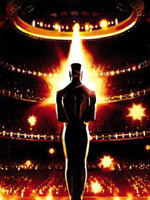 I've been hearing a lot of folks over the last few years tell me they think the Oscars should move back to March.  I'm not entirely sure why, but there is support out there.  You'll recall, 2005 marked the first year the ceremony was pulled a full month back from the end of March to the end of February, drastically (and for some, thankfully) shortening the season.
Well, good news for those who want things expanded.  It seems the show will move two weeks to March 7 next year.  The brief from the AP:
The Oscars will be presented a little later in 2010.

Sid Ganis, president of the Academy of Motion Picture Arts and Sciences, says the 82nd Annual Academy Awards will air live March 7 on ABC television from the Kodak Theatre in Los Angeles.

This year's telecast aired Feb. 22. The sleeper hit "Slumdog Millionaire" won best picture, Sean Penn won best actor and Kate Winslet scored the trophy for best actress.
Of course, this is actually pretty good news for entertainment outlets like Variety, The Envelope and The Hollywood Reporter, which depend on studio advertising during the awards season to stay afloat.  An extra two weeks can mean a lot of dough to them.  But this will be a one year deal to avoid the Winter Olympics, "Peter" tells us in the comments below.
The seemingly endless awards season will be a little longer next year.  Buckle up.