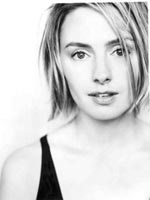 Given that Kris' recently declared love for the 45-year-old-and-still-sexy-thank-you-very-much actress Hope Davis seems to be shared by a few of you out there, you may be tickled by this extract from a Guardian piece, in which Hadley Freeman tackles the eternal issue of Hollywood's double standards of gender and age:
It is all too easy for a female actor to find herself cast as the mother of someone who once played her boyfriend as soon as she blows out the candles on her 35th birthday cake. This has long been an accepted fact of Hollywood life, and one that most women keep schtum about as they know they should be grateful to get any roles at all in their decrepit post-30s.

But last weekend, Hope Davis finally broke ranks to admit she was somewhat "peeved" when she was recently offered a role playing the mother of Johnny Depp, a concept that would have tested the skills of the most talented special effects department, seeing as Davis was actually born the year after Depp.
Heh. I have no idea what film Freeman is referring to, but that's a pretty hilarious tidbit. Suggesting that Hollywood views the man-to-woman age ratio as roughly akin to that of man-to-dog, Freeman goes on to list other familiar examples of the trend, such as Glenn Close playing Gertrude to Mel Gibson's Hamlet, and the bizarre spectacle of seeing Angelina Jolie mother Colin Farrell in "Alexander." By comparison, Taraji P. Henson's playing opposite a shrunken, digitised version of Brad Pitt seems positively conventional.