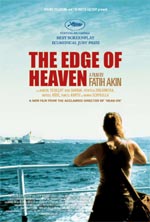 There's no real reason to pay attention to the Chlotrudis Awards,which took place on Sunday. After all, they're a casually organised set of honours determined by an enthusiastic group of Boston-based film lovers — that apparently get mentioned on IMDB and precisely nowhere else.
But hey, when their taste is this exemplary, they deserve a bit of notice. After all, in the thick of awards season, people actually bother with the innumerable, obscure regional critics' awards and their largely yawnsome copycat choices. The Chlotrudis Awards, by contrast, go commendably against the grain.
Any organisation that singles out the exceptional, Oscar-snubbed work of Kristin Scott Thomas and Elsa Zylberstein in "I've Loved You So Long" is in my good books, while "The Edge of Heaven" is a pretty fresh, adventurous choice for Best Picture of 2008. "Happy-Go-Lucky," meanwhile, continues to generate affection, taking Supporting Actor kudos for Eddie Marsan and half a Best Director award — in another inspired move, Mike Leigh and Guy Maddin ("My Winnipeg") tied for that honour.
OK, so nobody really notices or cares about these awards, but it's the principle that counts. I applaud them. Check out a full list of winners and nominees here, if you're so inclined.