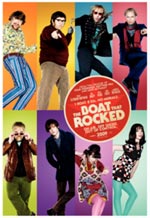 I have a complicated relationship with Richard Curtis. (Well, with his work, at least.)
On the one hand, I'm keen to defend the man: it's become fashionable here to direct aggressive vitriol his way for daring to stick to an upbeat formula that, while hardly pushing the envelope artistically, has proved both popular and crowdpleasing. While more considered than most, this critique by Tim Adams in yesterday's Observer is typical of the scepticism with which local critics regard him:
This desire to be a one-man band, and not just a writer of scripts, appears to be born of an unlikely immodesty. There was a likable kind of humility about the scale of Four Weddings … but as the budgets have grown, so, apparently, has Curtis's sense of what he is capable of. Somewhat like Blair, he seems to feel he is a pretty straight guy, but also a lone positive voice.

He seems to want his films to evangelise the idea that the world is nowhere near as grim as most film-makers like to think … It is admirable, that faith, but when translated wholesale to movies it borders on sanctimoniousness.
Like I said, I want to go against that elitist grain, but the truth is that Curtis' maddeningly inconsistent oeuvre doesn't entirely justify such loyalty. Yes, "Four Weddings and a Funeral" still stands as an exemplary, structurally inventive rom-com, even if it occasionally misjudges the audience's affection for its characters. (Andie MacDowell over Kristin Scott Thomas? Really?)
But for every bullseye like "Four Weddings" or "The Tall Guy," there's an example of Curtis coasting on his patter, substituting calculated cuteness for genuine warmth. (Or even, sometimes, genuine wit — see his dire sitcom "The Vicar of Dibley.")
His directorial debut, "Love Actually," was a sprawling microcosm of the very best and very worst of Curtis, uneasily marrying sincere sentiment and manufactured sentimentality. It was difficult to locate where Curtis' own allegiances lay in a film that alternated between beautifully judged restraint (Emma Thompson's quiet breakdown in her bedroom upon discovering her husband's betrayal) and stomach-churning kitsch (tinsel-clad tweens performing Mariah Carey songs, for starters).
So it's with a measure of caution that I approach Curtis' sophomore effort, "The Boat That Rocked." While I'm guessing the film is likely too slight to merit the awards attention that Kris is currently predicting, it has terrific story material (briefly, focusing on the pirate radio movement that brought rock music to Britain's airwaves in the 1960's) that appears to offer few of the opportunities for emotional bathos to which "Love Actually" debut succumbed. And, as with his debut, it has a killer ensemble.
But there's something a little glib and try-hard about the trailer that suggests to me 'zany' boxes being ticked rather than genuine joy in the proceedings. Of course, it's just a trailer and they tend to push nuance to one side when advertsing broad comedy like this, but I'm just saying — eccentricity is a very hard quality to manufacture.
Adams certainly isn't convinced by the film, complaining that the audience is "not required to care" about any of the characters, and suggesting that it's Curtis' shallowest film to date. We'll see.