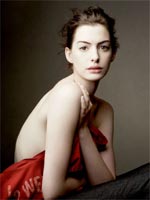 You may recall that a few weeks ago, I mentioned that Harvey Weinstein had a Judy Garland biopic in the works.
Back then, I contemplated the potentially perfect Oscar storm represented by the lead role: a biopic of a showbiz icon, covering substance abuse and mental instability, requiring song-and-dance skills, all backed up by the mighty campaigning power of Weinstein.
Wondering which actress might be lucky enough to nab the opportunity, I suggested that Anne Hathaway could be a neat fit for the part.
Well, if Jeff Wells is to be believed, it seems that Weinstein is of a similar mind: Hathaway is "officially attached" to the project. I wonder if her game Broadway-style hamming at last month's Oscar ceremony helped her cause at all?
Seriously, though, this is perfect timing for the starlet: if "Rachel Getting Married" served as a sketchy but intriguing blueprint of what talents she had stored up, this is the kind of expansive, weighty mainstream project that would solidify her arrival as potentially the go-to leading lady of her generation. If she pulls it off, I maintain that it's hard to imagine the Academy resisting.