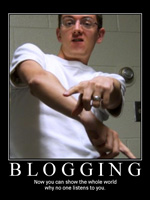 I've been kinda, sorta keeping up with some Twittered reactions to the recent blogger smack downs by Cynthia Littleton, Michael Fleming and editor-in-chief Peter Bart, but curiously, no reaction from the peanut gallery…yet.  It's a lazy Sunday, after all.
In a nutshell, it seems with this trinity Variety has called for us all to get along.  The usual names are brought up in connection to incessant, unbearable cyber-squabbling: Jeff Wells, David Poland, Nikki Finke, Patrick Goldstein.  Sharon Waxman's name is tossed into the hat as well, but why can't anyone just say it?  Finke and the traffic she has generated as a result of questionable (and certainly grating) practices has put the fear into industry professionals and competetive journalists.  She is the 21st Century bad apple and she's spoiling the bunch.
Sadly, some smart people seem to consistently be taking her lead when it comes to sand box tactics.  If smart, longtime journalists like Goldstein and Waxman are being pulled down to her level, what can we expect of other naturally competitive and snarky writers?
I'm in no position to stand on a soap box so I won't.  I've been in my fair share of online spats and felt stupid afterwards.  Usually my bone of contention will stem from a beef on a writer's representation of a film, hardly a fight for it's own sake or a competitive drive to amp up the hits.  But I do hate what Finke is and has been doing and it should be brought up in a certain light.
All of that said, I think Variety is putting itself in a precarious position by unleashing three editorials on this issue in the same day, one of them from an old media type who is widely (and wrongly) known as "hating" bloggers.  So far, no reaction, but I expect it to come soon.  And I don't think it'll be pretty.
(A few greatest hits from the three pieces after the jump.  And click the pic for a larger version, by the way.)
Littleton sets the scene before offering a case-by-case study of the snarking:
In recent months there have been near daily eruptions of vitriol between prominent showbiz bloggers and online journos. It's a byproduct of the relentless self-promotion and self-aggrandizement ("Toldja!") that seems to be a prerequisite for those who aspire to be taken seriously in the increasingly rough-and-tumble showbiz news and commentary game.

For many in showbiz, reading these feuds has become a tawdry sideshow, the online equivalent of rubbernecking on the freeway at a car crash.

Many of these bloggers seem obsessed with one other. As a result, their blogs are partly news — and partly denunciations of rivals, while touting their own credentials.
Bart presents his view of the platform:
Andrew Sullivan argues that the tensions between print and online could create "a golden era for journalism." He writes: "The blogosphere has added a whole new idiom to the act of writing and has introduced an entirely new generation to nonfiction." Sullivan is a conservative columnist as well as being a blogger; he's also a senior editor of that venerable magazine, the Atlantic.

I agree with him. Given the veritable avalanche of information as well as the cyclonic pace of news events, there is a discernible need and appetite for informed opinion, indeed for personal journalism.

It remains for the consumer to sort out the real from the unreal, the responsible from the irresponsible. And news sources, too, have the obligation to resist intimidation. Playing gotcha games with toxic bloggers, as many have discovered, can have ominous consequences. This week's planter of a story can become next week's victim.
Fleming catches Finke in a doosie:
On Jan. 29, 2008, at 2:33 p.m., Nikki Finke on her Deadline Hollywood site stated that ICM was beset with troubles and that Jeff Berg was leaving. A little later, that item disappeared. A new post materialized with the same time stamp, and this lead: "Let me knock down that rumor making the rounds that Jeff Berg is supposedly leaving ICM on April 15th …"

Like some other bloggers, Finke was in the unenviable position of debunking a rumor that she had started.

The WGA strike put Finke on the map. She had many supporters among Hollywood workers, with her rah-rah pro-union posts. Those writings didn't reflect the frustration I heard regularly from screenwriters who were cash-poor, with lucrative assignments out of reach because of a strike they didn't believe in. But that's one of the advantages of multiple blogs: multiple voices with multiple points of view.
I personally think Fleming's piece does the better job of presenting the problem and not being overly fatalistic.