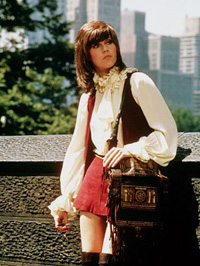 Growing up I was a huge John Wayne fan, but I remember when the Duke started to fade, and then that shocking evening he presented the Academy Award for Best Picture to "The Deer Hunter" just a few months before his death in 1979.
Perhaps because we watch these people age in front of our eyes we feel a unique kinship with them, as though we know them, but seeing Wayne at the Oscars was shocking, a terrible reminder that the acting icons are very human, subject to everything life brings: aging and death (as we found out terribly this week).
The great actors of the 1970s, those that kick-started a second movement in American acting — Jack Nicholson, Dustin Hoffman, Ellen Burstyn, Al Pacino, Robert Duvall, Robert De Niro, Jane Fonda — are all well past 60 these days, some over 70 with Duvall edging ever closer to 80. Their best work may indeed be behind them (one never knows) and to me it represents a point of great sadness. We may never see their like again.
They brought to the screen an inherent realism, an extraordinary authenticity that only Brando had accomplished. The day is coming when we will never be able to look forward to another great performance from the likes of Nicholson or Duvall or Fonda again.
I remember the moment I first became aware of Nicholson, seeing him for the first time in "Five Easy Pieces," in which he established himself as the actor of the decade, that intelligent rebel who simply would never conform to what society felt he should. Nicholson gave us a great array of performances through the 1970s, fearless in the face of risk, even singing in "Tommy," Ken Russell's lavish rock opera by The Who.
Nicholson was every bit as comfortable in small, intimate films such as "The King of Marvin Gardens" and "The Passenger" as he was in the studio pictures: "The Last Detail," "Chinatown," "The Missouri Breaks," "Carnal Knowledge" and his mesmerizing, Oscar winning turn in "One Flew Over the Cuckoo's Nest."  As of 2009, Nicholson is the most nominated actor in movie history and has won three Academy Awards, two for Best Actor.  But for my money he should have won for "Easy Rider," "Reds," "Prizzi's Honor," "Ironweed," "About Schmidt" and "The Departed," too.
Nicholson is such a huge star people often forget how magnificent he is at his craft.  He is among the greatest to ever grace the screen, always able to balance stardom with talent.
Dustin Hoffman had actually exploded into movies in the 1960s with superb performances in "The Graduate" and "Midnight Cowboy" and was by all accounts an oddity. Short, not terribly good looking, and with a penchant for being demanding, he became the most unlikely of major stars. Being blessed with extraordinary talent caused those in the business to forgive his quirks and embrace him as a superb actor.
"Little Big Man," "Straw Dogs," "Papillon," "Marathon Man," "All the President's Men" and his best work in the decade, "Kramer vs. Kramer," "Lenny" and the little-known "Straight Time" display his amazing range and intelligence on screen. Always at his best when portraying a character with a mean edge, his career-best work came in the 1980s with '"Tootsie," one of the screen's most accomplished portrayals. He is enjoying something of a rebirth these days with "Perfume" and "Last Chance Harvey" and it is terrific to see him in good roles again.
De Niro is the greatest question mark of the great actors. His work in the 1970s was sublime, as he brought an edgy intensity to the screen was was exhausting to watch. I remember watching him for the first time in "The Godfather, Part II" and was convinced he would win an Oscar for supporting actor.  A star was born.  He had of course been tremendous before that in "Mean Streets" and "Bang the Drum Slowly" but Coppola's film seemed to bring out everything he did well, which was to disappear into the role.
De Niro followed that with the seething "Taxi Driver," Bertolucci's flawed masterpiece "1900," Martin Scorsese's "New York, New York" (in which he was the weakest thing), and Michael Cimino's "The Deer Hunter."  His astounding performance as Jake LaMotta in "Raging Bull" won him a second Oscar and remains his greatest work to date, an extraordinary performance of a man forever at war with himself.
He worked tirelessly through the 1980s, with only "True Confessions," "The King of Comedy" and "Once Upon a Time in America" being worthy of discussion. The 1990s gave us "Goodefellas," "Awakenings," "Cape Fear" and "Wag the Dog" but also some dreadful forays into comedy which were more embarrasing than anything else. His work in a wonderful supporting role in "Stardust" was the first time in years I remember caring about his work. There was something incredibly light in his step (the role for sure) but also a knowledge that he could have some fun and get away with it. Hopefully he has another piece of greatness in him; that last thing with Al Pacino was certainly not it.
And when did Pacino go so far off the tracks? When did he decide that yelling and screaming his lines passed for great acting? Worse, when did his directors, who obviously fear him in some sense, decide not to tell him to bring it down a bit? Mike Newell knew how in "Donnie Brasco," the actor's best work since the 1970s.  Back then he cranked out one great performance after another, beginning with "The Godfather," "Serpico," "Scarecrow," "The Godfather, Part II" (his best work), "Dog Day Afternoon," and then the wretched "Bobby Deerfield" and over-the-top "And Justice for All."
From there he got involved with William Friedkin's misunderstood "Cruising" and Brian De Palma's "Scarface," now considered a masterpiece (but not upon release). In this period he also made "Author! Author!" — one of the worst films ever made — and the excreble "Revolution" before heading back to the stage for several years. When he came back something had changed in his work.  It was though he believed he was still in the theatre and needed to bring the volume up in every role.  Watch the way he wraps his mouth around the lines and spews them out at the actor nearest him.  Is this great acting?
Of all Pacino's  films since 1990, only "Dick Tracy," "Glengarry Glen Ross" and "Donnie Brasco" stand out. Dreck like "88 Minutes," "Righteous Kill" and "S1m0ne" do little to remind us that Pacino was once one of the greatest actors working. There was a time all he needed to do was appear on screen and all eyes went to him; they still do, but for the wrong reasons as he is the busiest and noisiest actor on the screen.
Though Robert Duvall was never a major star he has always been a great actor and respected as such. The brilliant guru Sanford Meisner once said, "There are two great American actors. The first is Brando though his best work is behind him, the second is Robert Duvall." He said that in the mid-1960s before Duvall broke through in the 1970s. And did he ever break through: "The Godfather," "The Godfather, Part II," "Network," "The 7% Solution" and best of all, "Apocalpyse Now."  He would win an Oscar years later for "Tender Mercies" and do sublime work in the TV mini-series "Lonesome Dove," and best of all in "The Apostle," which should have won him a second Academy Award for Best Actor. Is there another actor at his age who we can rely on for yet another great performance?
As for the ladies, we can look no fruther than 70s icon Jane Fonda.  I first fell in love (well, lust) with her in "Barbarella" but realized her brilliance after seeing "They Shoot Horses Don't They?" years later. She would earn Hollywood's respect with that one and then win an Oscar for "Klute" in 1971 at the height of her fame as Hanoi Jane, the most vocal high-profile opponent of Vietnam.
A long hiatus from cinema brought her back in 1977 with "Julia," "Coming Home" (a second Oscar), "The China Syndrome," and "Comes a Horseman."  She gave a fine supporting turn in "On Golden Pond" in 1981 and won an Emmy in "The Doll Maker," which had it been a feature would have won her an Oscar. More so than any other of the fine actresses of the 1970s, Fonda brought an intense, fearless realism to her work. The lady knew there was ugliness in humanity and she made the decision to show that in her work, warts and all, for her art. There was no one quite like her. She recently started making movies again and has earned rave reviews on Broadway.  She might be back.
Ellen Burstyn, whom I had the immense pleasure to speak with in Toronto last fall, is an actress of extraordinary capability. Unconventional by Hollywood standards, her talent proved her greatest strength…as it should. She won an Oscar for Martin Scorsese's "Alice Doesn't Live Here Anymore" and nominations for "The Last Picture Show" and "The Exorcist" before settling into a long and very fine career, balancing her work on film with that on stage. She gave an amazing performance in "Requiem for a Dream" that should have gotten her Oscar number two, but that's the way things go. Her work in "Lovely Still" is mesmerizing and hopefully will earn the attention she so richly deserves.
They are now senior citizens, greying, some bald, wrinkles freely showing on their faces.  But in most cases the talent is still there. Nicholson works infrequently but when he does his work is eagerly anticipated…and he rarely disappoints. Hoffman is working more and more these days, in supporting character roles and the odd lead, and damned near always steals the film.
I struggle with the work Pacino and De Niro are doing, with the odd exception, but they have become, sadly, parodies of themselves. Duvall reached a zenith with "The Apostle" a few years back but has been active in films and television. His work in "Broken Trail" was wonderful, making it clear he still has it in him. Both Fonda and Burstyn continue to deliver when they work, and though Fonda works far less than Burstyn, for me she is the actress with the greatest potential for one more knockout.
And so many others I have not mentioned are still banging away at it, refusing to fade away yet: Gene Hackman, Bruce Dern, Sally Field, Diane Keaton, James Caan, Jon Voight, Jill Clayburgh, on and on.  When will their curtain calls be finished?  It's only a matter of time.
Will the actors of this generation have the lasting impact these folks have had? Time, the enemy of all things cinema, will make that decision, but I somehow doubt it.  Like John Wayne, Katherine Hepburn, James Stewart and Bette Davis, the aforementioned actors of the 1970s were true originals and we probably won't see their like again.