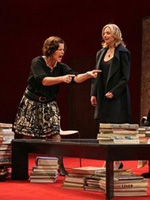 From AP drama critic Michael Kuchwara on the Broadway production of "God of Carnage":
The real revelation of the evening, though, is Harden, usually seen in much more somber roles such as her Oscar-winning performance as Lee Krasner in the film "Pollack." In "Carnage," she undergoes the play's most startling transformation — from quiet, considerate woman concerned about such tragedies as Darfur to a bellowing harridan who's not above throwing a punch or two. It's one of those swell, showy comic portraits that has Tony nomination (and probably the prize, too) written all over it.
Don't get me wrong.  I pretty much agree with every word written here.  But I just wish Hope Davis's slow burn (which simmers a bit more than Harden's fireworks display) had garnered more than broad priase like "delicious self-effacement that hides a simmering rage" and an aside about one moment of showmanship that really says less about the character than most everything that precedes it.
But, like I said…I'm in love.  Perhaps I'm biased.  There's also this great Arts & Leisure piece on Jeff Daniels and James Gandolfini, worth a look.
Anyway, with theater on the mind, I've been shamed by the fact that "August: Osage County" has eluded me since it debuted in Chicago and New York two years ago, but I finally caught up with it this afternoon…and it makes me want to put down my pen, take up a different line of work.  Depressingly brilliant piece.