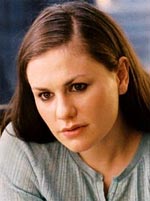 I have to say, I've all but given up hope that Kenneth Lonergan's "Margaret" will ever see the light of day. For years now, I've kept an optimistic eye out for the film, kept putting it on my early Oscar prediction lists, kept checking the Fox Searchlight release schedule — only for the film, originally shot in 2005, to fall further and further beneath the radar.
There's talk of an unruly, wildly overlong shooting script as being to blame, while chronic perfectionism on Lonergan's part has also been rumoured. I'm not sure what to believe — but as someone who thinks that "You Can Count on Me" is looking to remain one of the decade's finest American films (yeah, we have to start thinking about such things, don't we?), it's certainly a frustrating state of affairs.
It's certainly hard to imagine a film of "Margaret's" pedigree — to jog your memory, the cast includes Anna Paquin, Matt Damon and Mark Ruffalo, while Scott Rudin and the late duo of Anthony Minghella and Sydney Pollack all have producer credits — just falling by the wayside.
So I was intrigued to stumble upon this news tidbit that suggests the film hasn't been entirely forgotten — and that it doesn't only share a trio of producers with last year's "The Reader." It would appear that prodigious young composer Nico Muhly has taken on the job of scoring the film, which may or may not mean anything. Searchlight's website offers no helpful information, for one thing. Still, it's nice to hear that "Margaret" hasn't completely vanished off the face of the earth.
(Coincidentally, this is the second time Muhly has cropped up in my thoughts today. This morning, I was checking out the lineup for the ATP UK Weekend, a music fest I'm attending in May — and lo and behold, there he was, alongside the likes of The Jesus Lizard and Spiritualized. Dude's got it going on.)