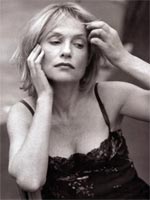 Dull but hindering circumstances kept me offline yesterday, so I couldn't get to the Cannes/"Up" news that Kris recently posted.
By the way, before I get into that, can I just say what a great choice the Cannes organisers have made in selecting Isabelle Huppert as their jury president this year?
It's been a while (8 years, to be specific) since a woman took on the role, and as one of the most adventurous, intelligent and hard-working actors of her generation, Huppert (a two-times Cannes winner herself) has earned the position. Here's hoping she brings the same kind of fearless thinking to the panel that she does to her roles.
As for "Up, "Being the first animated title to open the world's most prestigious film festival is obviously a notable accomplishment — and probably an overdue one, at that.
Chiming in with last year's tide of critical accolades for "WALL-E" and "Waltz With Bashir" (which, of course, began its buzz at Cannes), it's clear that the artform is increasingly nearing an equal footing with live-action filmmaking as far as cineastes are concerned — even if some conservative viewers (and of course, AMPAS voters) would like to pretend otherwise.
However, amid the breathless reporting of "first evers," it seems to me one crucial detail has been somewhat neglected — the film is playing out of competition.
This strikes me as an opportunity missed. I'm guessing it was Pixar's decision not to submit the film for competition consideration, but one has to wonder what they stood to lose by trying. Given Cannes' arthouse bent, nobody would have expected the film to win anything anyway, but a Palme d'Or nomination could have lent the film some impressive additional cache.
It's likely the Cannes selectors would have been game: aside from obvious highbrow inclusions like "Persepolis" and "Bashir," both "Shrek" and (God help us) its sequel played in competition at the festival.
As it stands, being named the fest's opener is a nice but ultimately rather meaningless accolade — largely because Cannes seems to change its mind every year about what the opening film should represent. In some years, the slot is used as a bold statement of popular and artistic viability ("Bad Education," "Moulin Rouge!"), but in others, it's a crass commercial sell-out. ("The Da Vinci Code," anyone?)
In recent years, the opening slot has housed more misses than hits — whether they were overreaching artistic failures that had bad buzz already ("My Blueberry Nights," "The Barber of Siberia") or sub-par works from hitherto reliable auteurs ("Blindness," "Lemming"). And even the French public's unabiding devotion to Woody Allen couldn't justify the selection of "Hollywood Ending" in 2002.
Obviously, it's safe to say that "Up" probably doesn't fall into any of these categories — Cannes clearly felt like opening with a credible hit this year, so they looked to the studio that most reliably churns out such things. But one shouldn't pretend that opening Cannes is necessarily the greatest of artistic endorsements.