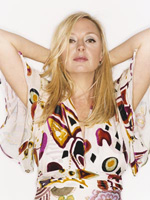 Alright, I've got to confess an undying love here and now, a lingering sort of obsessive interest, both cerebral and, of course, physical, in an actress that can do no wrong.  Ever.  I'm talking to you, Hope Davis.
There, I said it.  Sure, you're 45 (as of Monday, so Happy Birthday) and I'm 27, plus, you're married with children.  So running off with some silly blogger is probably not your cup of tea.  I get it.  But now you know.  Just consider it.
In all seriousness, though, I thought Davis and her trademark comedic timing pitch-perfect in the New York production of "God of Carnage," which I saw earlier this evening after missing the Ralph Fiennes-starring London leg last summer.  Marcia Gay Harden was equally entertaining and James Gandolfini really sold the money lines in an intriguing performance.  Jeff Daniels was perhaps a tad histrionic, but I couldn't take my eyes off Davis.  And even though I've always been something of a fan of her decidedly accomplished work, it didn't quite hit me until tonight's show just how much of an under-appreciated talent she continues to be.
And to circle it back, am I alone in thinking she's a total fox?  Maybe it's just a crush.