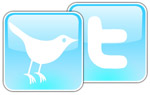 I was having lunch with a publicist recently who seemed to be totally confused at how Twitter was going to affect her job.  You know, someone sees a film, Twitters something about it off the cuff and suddenly there's a conversation to be contained.
My point of view is that there is nothing I can Tweet that I can't go into my WordPress iPhone application and embellish a bit further and just as fast.  So the sudden boom of the Twitter culture seems like a big ole' non-starter to me.  After all, speaking just for myself, I forget I have an account half the time.  And when it comes to work, like I said, I'd rather log in and post something here rather than offer up some quick line of "thumbs up" or "thumbs down" on another platform entirely.
A friend recently wrote a piece for The Huffington Post on all this mess.  She stands by Twitter as a journalistic tool, but I can't take that dive yet.  I think what we're seeing is an industry struggling to stay hip, fresh and, above all, mobile.  So Twitter is just the flavor of the month (even though it's been around forever).
Then I saw Peter Sciretta over at /Film had put up a post called "Early Twitter Buzz: Observe and Report," collecting the SXSW reactions to the film from folks like Film School Rejects' Neil Miller, indieWIRE's Matt Dentler and Cinematical's James Rocchi, with some varied public reactions (I think) tossed in here and there.  Suddenly it seems my publicist friend's nightmare might be a reality.
Anyway, speaking of SXSW and "Observe and Report," here's part one of Anne Thompson's interview with director Jody Hill (woo-hoo "Eastbound & Down!") and actor Seth Rogen.  Head on over to Thompson on Hollywood for part two: