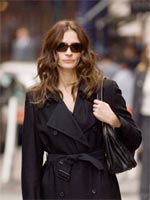 I must say, I liked the look of Tony Gilroy's "Duplicity" from the get-go. However, being a sucker for jazzy caper thrillers in the "Charade" vein, as well as for most things starring Clive Owen, I wasn't sure whether to trust my instincts there.
In any case, given the amiable slightness of the trailer and the indifferent release date (not to mention that awful title), I wasn't expecting a critical hit — but going on the early trade reviews, it looks like that's what we may have here. Todd McCarthy's Variety rave gushes as follows:
Smart, droll and dazzling to look at and listen to, writer-director Tony Gilroy's effervescent, intricately plotted puzzler proves in every way superior to his 2007 success "Michael Clayton." The twisty, time jumping narrative forces viewers to keep on their toes, and it could well be that "Duplicity" is too smart for its own good as far as the popcorn masses are concerned. Still, this is about as good as it gets these days for sharp-minded Hollywood entertainment made for an intelligent audience.
Topping "Michael Clayton" isn't the hardest of tasks in my mind, but given the devoted following the film enjoys, that's no light praise: McCarthy invokes Lubitsch comparisons at one point. Meanwhile, nearly every major cast member and craftsman (a pretty dazzling array, it must be said, including Robert Elswit, Albert Wolsky and James Newton Howard) is singled out for kudos.
Meanwhile, the lovefest continues at Screen International:
Tony Gilroy's second feature is sophisticated adult entertainment which puts the lazy Ocean's films to shame with its clever writing, lively direction and visual panache. An old-fashioned caper with a refreshingly keen desire to entertain … The actors rise to the occasion. Roberts is no stranger to flirtatious romantic comedy, but Owen is unusually charming here, successfully playing against the humourless, rugged type in which he has been traditionally cast.
Kirk Honeycutt at the Hollywood Reporter is similarly charmed — and also suggests that Gilroy has excelled his previous effort — but offers the caveat that nothing much is at stake in the narrative, making the film "cerebral more than emotional fun."
Regardless, this could be the first 2009 release that I'm actually looking forward to seeing. I might even put it on my list of outside possibilities in Best Original Screenplay last year, given the apparent intricacy of the writing and Gilroy's general popularity within the industry of late. Yeah, it's early to be thinking about such things — but hey, "In Bruges" had been and gone this time last year.