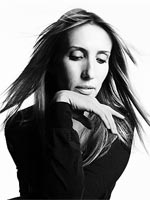 1. It's a biopic chronicling the formative years of one of popular music's most gifted and fascinating icons. (How has it taken this long for a John Lennon project of any significance to come to fruition?)
2. It's the feature film debut of Sam Taylor Wood — the British conceptual artist, musician, photographer, Anthony Minghella protegee and all-purpose celebrity. Her media ubiquity could arouse wariness if her award-winning 2008 short, "Love You More," hadn't been really rather lovely indeed. As it is, she could just be this year's Steve McQueen.
3. It is written by Matt Greenhaigh, who scored a home run with "Control," another jagged, intimate portrait of a British rock legend. And anything or anyone connected with a film as brilliant as "Control" deserves our full attention. Fact.
4. It stars Kristin Scott Thomas, inarguably one of the greatest thesps around these days, in the potentially rich role of Lennon's loving but eternally disapproving aunt and guardian, Mimi Smith. It's ideal casting, and Thomas carries a major IOU from this last awards season. Which brings me to my final point…
5. Rights to the film have just been acquired by The Weinstein Company, with a view towards a year-end release.
Harvey Weinstein reportedly "fell in love" with Greenhaigh's script, which apparently focuses heavily on the emotionally charged custody battle between the aforementioned Smith and Lennon's biological mother. It should be a meaty performance piece for Thomas and British TV actress Anne-Marie Duff (otherwise known as Mrs James McAvoy), and something tells me Weinstein might see a glimmer of awards potential there.
It doesn't hurt that that it's being co-produced by Film4, which, between "Slumdog Millionaire," "In Bruges," "Happy-Go-Lucky" and "Hunger" had perhaps the most impressive slate of any production outfit last year.
Okay, so it only started shooting on March 8, so there's no way of knowing which way this one's headed. Still one to keep an eye on, methinks.