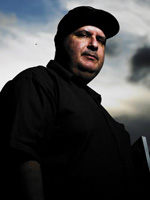 I don't know if everyone has read up on director Alex Proyas's sporadic guest blog postings at /Film, but I've been getting a kick out of his unfiltered take.  Obviously it's a nice PR move for his upcoming film "Knowing," which would look like derivative sci-fi trifle if not for Proyas's involvement at the helm.
It also reminds me that I need to pick up the Blu-ray Director's Cut of "Dark City," which Proyas gleefully put together a decade after studio pressure forced him to "dumb down" the theatrical cut (which I never fully enjoyed).
Anyway, here are some highlights from his guest blogging stint…
On his latest film:
KNOWING is an original and thought-provoking story, and I believe it has a unique & compelling idea at its heart. It's about a man looking for meaning in his life, in a universe he believes to be meaningless, as he comes to understand the part he has to play in his own destiny. In many ways the story is about confronting fate and the inevitable, but it offers great hope and maps a path to the hero's (Nic's) own spiritual transcendence.

This story offers some challenging philosophical ideas but it's a journey with deep emotional resonance. It's about the cycle of life & death, and the hope we hand down to our children. As well as all that, I think the movie is a great thriller; but it's the best kind of genre movie because it is about something meaningful.
Revisiting "Dark City" and putting together the truest vision of the film:
I really do believe that Dark City happened before it's time, or at least before a wider audience was ready to accept it. Because it was so forward thinking, there were a bunch of compromises I had to make, theoretically making it more accessible to a wider audience. Like most directors, compromise is just not something that sits well in the belly. I never felt comfortable "dumbing it down" to reach a broader audience.

So when the opportunity came around to re-cut the film for a HD release on Blu Ray, I jumped at the chance. It was a real labor of love, being able to go through all the old reels and pick out some elements I believed should have been in there from the start.
On one of his major influences, William Friedkin's "The Exorcist":
Above everything else, I was impressed with Friedkin's ability to create a mood; an atmosphere so claustrophobic and suffocating, so weighed down by a sense of impending doom, I've never been the same since. The more I watched THE EXORCIST, the more I realized how brilliant it was on so many levels: the music, the cinematography and the script married perfectly to stir emotions so strongly that, even hours after watching the film, those feelings would still resonate. I want to make films that resonate that strongly. It's one aspect of story I look for before signing on to do a project.
Proyas will also be answering questions from readers in due time, so head over there with your queries in tow.  "Knowing" opens this Friday, March 20.