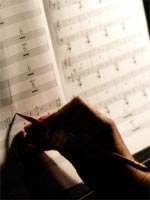 By now, "Watchmen" has been assessed and widely shat on from a large array of angles, but one voice I didn't necessarily expect to pipe in was that of classical music critic Tom Service. Writing for the Guardian, Service praises the film's "carefully conceived" use of existing music, particularly the heavily intertextual use of Wagner, though he complains:
A shame, then, that they go for the easy option of Mozart's Requiem, in a poorly edited version, near the end of Watchmen, after the pseudo-apocalypse that wipes out Manhattan. Surely a bit of 80s electro would have made the point better, and saved Mozart from becoming yet more of a morbid musical cliche?
Against such familiar themes, however, Service is distinctly unimpressed by Tyler Bates' original score for the film, and uses this as a springboard for a broader lament on the state of Hollywood scores in general. He claims composers have recently "trodden the path of the generic or the frankly redundant" — with Jonny Greenwood's extraordinary work on "There Will Be Blood" the last notable exception.
I tend to agree with him, having found 2008 a particularly weak year for film scores in general. But we part ways when Service chooses to single out for criticism one of the few scores that actually got under my skin (and onto my iTunes) last year:
Anyone remember "The Dark Knight's" score? Hans Zimmer and James Newton Howard's music, I thought, got mired in a single idea, an obsessively repeated minor third, that gloomy interval of impending doom, but could not generate any real tension or dramatic counterpoint with the onscreen action. It's a pity, given the complexity of drama and ideas in both films ("Knight" and "Watchmen"), that the music didn't add to the experience.
To each their own, I guess.
Related Posts