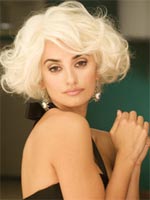 That's how Pedro Almodovar describes "Broken Embraces," which is now mere days from opening in Spain. Reviews should arrive soon enough, but for now, this rather thin article offers the following tidbit:
With hints of thriller-style cinema thrown in, Almodovar's film alludes to his own earlier movies those of directors he admires, such as Roberto Rossellini.

"It is a romantic movie, with intertwined stories of love. But underlying them all is my love for cinema," Almodovar said Friday after a press screening.
A Reuters piece extends the vague noir comparisons, likening Rodrigo Prieto's cinematography to that of 1940's Hollywood thrillers — one scene, in particular, apparently evokes "Kiss of Death," which is good enough for me. (Am I the only one totally psyched about the teaming with Prieto?)
All well and good, but I'm puzzled by such writers describing this as some kind of major departure for the auteur: what were "Bad Education" and "Live Flesh" (which was, after all, a Ruth Rendell adaptation) if not jet-black thrillers?
Finally, I liked Almodovar's explanation to leading lady Penelope Cruz (who still seems endearingly bewildered by her recent awards success) of the significance of what an Oscar statuette means:
"The Oscar is the only prize that is treated like a living thing. People and friends call you to come over and meet it."
He has two of them, lest we forget. Given Almodovar's progression from enfant terrible to crossover arthouse king (have people forgotten the brazen weirdness of "Kika" or "Law of Desire?"), some are suggesting a third could be on its way — but hey, that's what we all thought about "Volver."