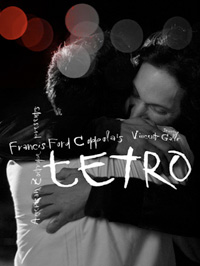 No other director in the history of the cinema dominated a 10-year span as Francis Ford Coppola did the 1970s. Beyond directing four of the decade's greatest films — "The Godfather", "The Godfather, Part II", "The Conversation" and "Apocalypse Now" — his name was on "Patton" and "The Great Gatsby" as screenwriter and "American Graffiti" as producer.
In addition, Coppola created American Zoetrope in the hopes of building a haven for young directors to make small films free of the studios.  But he also believed what the press were saying: he was a genius who would turn whatever he touched into gold.  His ego got in the way and he alienated friend and comrade George Lucas, eventually making up with the director years later when positions of power had been reversed.
In the years after "Apocalypse Now," the Oscar-winning Coppola fell on hard times with one failure after another it seemed, his once golden touch lost in the jungles of the Philippines while making his Vietnam epic. There were glimmers of former greatness from time to time, such as the expressionistic brilliance of "Rumble Fish," the Cab Calloway sequence in "The Cotton Club," the haunting scene with Kathleen Turner and her grandparents in "Peggy Sue Got Married" and Jeff Bridges's wonderful work in "Tucker."
But "One from the Heart" was a mess.  "The Outsiders" was a sentimental disaster of a film. And then there was "The Godfather, Part III," a failure because Paramount failed the director, breaking their word after making the promise he would have complete control, refusing to pay Robert Duvall, integral to the story, half of what Al Pacino was making, forcing a major re-write (that cost…?) and casting his daughter (the poor girl) in a key role when she simply lacked the acting chops to work with that ensemble.  On and on.
There was much to like in "Bram Stoker's Dracula."  Visually the film was superb and Gary Oldman rocked as the neck-biting title character, but then Coppola gave us the wretched "Jack," easily the worst film of his career. Since that mess we have had just two films: "The Rainmaker" (based on the John Grisham novel) and "Youth Without Youth" (a bizarre sort of intellectual "Benjamin Button" that did not quite work).
I would like to believe the man has one more masterpiece left in him. I would like to believe the greatest director of the cinema's greatest decade can do better than greet guests at his winery and sign autographs. And I would like to think he is still a filmmaker first.
When Coppola stood alongside Steven Spielberg and George Lucas to present Martin Scorsese with that long overdue Oscar two years ago, we had the four greatest filmmakers and pioneers of the 1970s on stage together at once, having overcome old grudges.  Lucas had gone on to become a technological wizard, less a director than pioneer of film presentation, while Spielberg and Scorsese continue to do brilliant work to this day. It was for me a little sad because it was a reminder of what Coppola once was, and how far he has truly fallen.
That said, if he had never made another film after "Apocalypse Now," he would still to this day be considered one of the greatest of all time. Failure is supposed to teach us, to help us understand our errors and avoid them, yet Coppola cannot seem to get over that hump. Hopefully "Tetro" will be the film that brings him back to the where he so belongs. I hope so, because I believe of all the great American directors Coppola is the one with that one true masterpiece left in him.
Check out Coppola's short video diary from the official "Tetro" website: