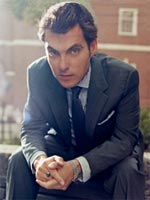 We have yet to see how Joe Wright's first foray into contemporary American cinema turned out, though the demotion of "The Soloist" from prime 2008 awards-bait to quiet 2009 spring release has had the sceptics whispering for some time now.
Perhaps unsurprisingly, then, Wright's next project will find the "Atonement" helmer in the more familiar territory of the British period drama: "Indian Summer" will chronicle the last days of British colonial rule in India in the 1940s, following the handover of power from Viceroy of India, Lord Mountbatten, to new Indian PM Jawaharlal Nehru. (Some sources, meanwhile, suggest that the focus of the film will be a rumoured affair between Nehru and Mountbatten's wife Edwina.)
Besides Wright, more notable names are falling into place: as the fourth collaboration between Wright and Working Title, Tim Bevan and Eric Fellner are naturally on board as producers, while William Nicholson ("Shadowland," "Gladiator") is taking script duties. The Guardian reports "speculation" that Cate Blanchett and Hugh Grant are in line to star, which I'd take with a pinch of salt — though it's plausible enough casting.
As a fan of the widely misrepresented "Atonement" (it was a far smaller, stranger film than the romantic epic it was sold as), I'm on board for this. It's not going to do much to clear the "next Anthony Minghella" buzz that has been circling around Wright for a few years now (misplaced talk at best, not least because he isn't a writer), but it seems a good fit for his storytelling abilities. "The Jewel in the Crown" remains the benchmark for screen depictions of this fascinating era — if Wright can conjure similar magic, this could be a real contender.