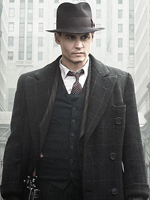 During our week away, materials landed for one of my own most anticipated films of the year: Michael Mann's "Public Enemies."  I haven't taken a moment to really dig in to this yet, but here goes…
The first thought I had when I saw the trailer was that this is the most un-Mann tease I've ever seen.  The latter half montage under Otis Taylor's "Ten Million Slaves," however, is vintage Mann, wallowing in the rush of narrative flow, images both beautiful and unusual, it's all signature.  And for a guy like me who puts Mann on a pretty high pedestal, those final moments are exciting for those reasons.
No one seems to want to admit the poster is just bad, and that's fine.  Who wants to sour the mood?  But it screams "studio" and has no artistic focus.  It's a figment of selling the film first and that's okay, but it's graphically awkward and visually impotent.  It says nothing.  Maybe we'll see another one before release, but truth be told, I've never been particularly impressed with a poster for a Mann film.
I've heard Marion Cotillard is quite good in the film, and of course, Johnny Depp looks like he's cranking out a special performance.  Christian Bale will be nice background flavor but I don't sense the symbiosis of, say, "American Gangster."  I wonder if Billy Crudup might finally be on the cusp of "arriving" after nearly a decade of solid work without a real breakthrough to show for it.  His work here could mix with his positive notices for "Watchmen" and make a perfect publicity storm.  Or not.
I'm most excited at the idea of Mann teaming up with lenser Dante Spinotti after a 10-year break.  I don't think the director was tinkering with digital very much in their last collaboration, "The Insider," but it's become his adopted style as of late and it may or may not work in a period piece such as this.  Ultimately, I think it might make the film too slick to be seen as prestigious.  We'll see.
On the whole, I don't get a big awards vibe from this film.  I think it's perfectly positioned to make good money but it's also very much on a "Road to Perdition" trajectory.  Maybe I'm just muting expectations, but I see commercial success, design respect, not much else.  But who cares about Oscars?  I'm stoked.