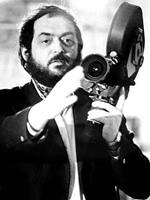 Somehow the 10-year anniversary of director Stanely Kubrick's death completely flew under my radar over the weekend (the day was Saturday).  Between painting a bedroom, dealing with server issues and the usual day-to-day, I guess forgetfulness can get the best of us.  But Kubrick was (and remains), to my mind, the greatest filmmaker to ever try his hand at the cinematic form.  I'm a bit ashamed to be coming to the table two days later.
In any case, Jeffrey Wells saw the anniversary as a nice time to run a Kubrick trash piece that is itself nine years old.  Classy.  Noah Forrest over at Movie City News, meanwhile, has put together a more appropriate remembrance.  Here's a taste:
By watching his films, I got to understand what an "auteur" is and how filmmakers can have themes that stretch over the course of their filmographies like Kubrick's ongoing analysis of dehumanization. I got to see how music can be used to wonderful effect in everything from 2001's spaceship ballet to Barry Lyndon's final duel to Full Metal Jacket's end credits to the haunting and heartbreaking finale of Paths of Glory and to, of course, his use of "Singin in the Rain" in A Clockwork Orange. I saw how lighting could effect mood and how important camera placement could be to how the audience feels about a scene, like when Jack Nicholson is locked in the pantry in The Shining and he's shot from below. Basically, watching Kubrick films helped to give me a baseline for which I would judge not just all great films, but all great works of art in general.
Ray Pride also has a mess of links up for your Kubrick perusing pleasure, including lots of interesting stuff at Jamie Stuart's Mutiny Company site.
Of course, a moment such as this should give everyone a chance to reassess their feelings of Kubrick's swansong, "Eyes Wide Shut," which hit theaters 10 years ago this July.  When I walked away from it (I was freshly graduated from high school and set to enter film school in the fall — this was the movie event of the year), I knew I needed more time to turn it over, but I also knew that somewhere, deep down, I truly loved it, even if it wasn't what I expected or wanted.  It was something else, something deeper, something with more nuance than the beefiest of reviews could begin to address.  It was also one of the first films I found myself defending in the face of consistent disapproval (and there was plenty vitriol), but I never wavered.  I still love the film, love the man, love the legacy.