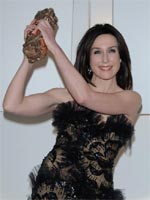 Last week's server switch-induced hiatus prevented me from commenting on the César Awards — perhaps the ceremony I was eyeing most keenly this year given the prominence of my personal favourites in their rich pool of nominees. (I'll say it again: France ruled 2008. End of story.)
You've probably read the winners elsewhere by now. Nonetheless, I would like to offer a quick shout-out to the delightful IC interviewee Elsa Zylberstein, who deservedly took Best Supporting Actress honors for "I've Loved You So Long" (which also grabbed the Best First Film award). One of my many disappointments last season was watching Zylberstein enter the derby with a measure of dark-horse buzz, only to fall by the wayside at every single opportunity — I was thrilled to see her finally take home some hardware for a mighty career breakthrough.
Zylberstein's magnificent co-star, on the other hand, was just one of many frontrunners derailed by a surprising sweep for "Séraphine," a modest biopic of historically neglected painter Séraphine de Senlis that garnered some warm notices at Toronto, but has otherwise been below the radar outside its home country. (It missed Oscar eligibility by a single day, though perhaps we should bear it in mind for next year.)
I look forward to seeing it when it drops in the UK this summer. If it honestly deserved to beat the likes of "The Class" (which finally got some notice for its extraordinary screenplay), "A Christmas Tale" or "I've Loved You So Long," it must be one hell of a picture. Full list of winners below the cut.
Best Picture: "Séraphine"
Best Director: Jean-Francois Richet, "Public Enemy Number One"
Best Actor: Vincent Cassel, "Public Enemy Number One"
Best Actress: Yolande Moreau, "Séraphine"
Best Supporting Actor: Jean-Paul Roussillon, "A Christmas Tale"
Best Supporting Actress: Elsa Zylberstein, "I've Loved You So Long"
Best Original Screenplay: "Séraphine"
Best Adapted Screenplay: "The Class"
Best Foreign Film: "Waltz With Bashir"
Best Documentary: "The Beaches of Agnes"
Best First Film: "I've Loved You So Long"
Most Promising Actor: Marc-Andre Grondin, "The First Day of the Rest of Your Life"
Most Promising Actress: Deborah Francois, "The First Day of the Rest of Your Life"
Best Cinematography: "Séraphine"
Best Production Design: "Séraphine"
Best Costume Design: "Séraphine"
Best Film Editing: "The First Day of the Rest of Your Life"
Best Original Score: "Séraphine"
Best Sound: "Public Enemy Number One"