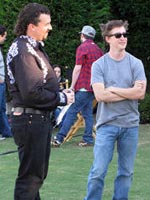 It has to be doubly sweet for my southern brethren to take in HBO's "Eastbound & Down" every Sunday night, but even if this country detail or that passes below your radar, or heck, even if you don't know a blatant Ric Flair gag when you see one, I can't imagine anyone not laughing their ass off at this thing week after week.
Then again, maybe I'm wrong.  The Danny McBride brand of humor might be seen as an extension of the Apatow/Rogen trajectory we've been on, toilet humor a bit too low on the brow for some.  Not me.  I'm eating it up.
Strikingly, I think the last three episodes (plus last year's "Pineapple Express") prove that David Gordon Green should stick to comedy and prepare to make his mark there, because this seems to be his calling.  I'm all for the era of artistic stretching he's been interested in since "George Washington" leaped off the neighborhoods of North Carolina and onto Roger Ebert's top 10 list, though 95% of all of that never worked for me.  And I'm sure he'll go there once again.  But as long as he wants to stick in this vein, I'm game.
Not only is the timing something special (and just take a look at the editorial choices made in "Pineapple" by flipping between the extended and theatrical cuts on the Blu-ray or DVD for evidence there), but the mundane is represented like never before.  Last July I wrote of "Pineapple" the following:
Yes, the man who staked a claim on the mundane mumblings of children and the love-struck in films like "George Washington" and "All the Real Girls" has applied those sensibilities to a niche genre that roots itself in same.

And it works! It works so well it's a shame Terrence Malick never tried his hand at "Up in Smoke." The pieces slide into place and find a cohesive fit that couldn't have been more unexpected.
And that's the case with "Eastbound & Down."  100%.
Of course, plenty of credit is due to co-creators McBride and Jody Hill (directing this summer's "Observe and Report"), but the guidance behind the camera is exceptional.  I only hope I'm not the only guy taking this stuff for more than surface level, however, because it deserves more — whether it knows it or not.
(And hel-lo Katy Mixon.)