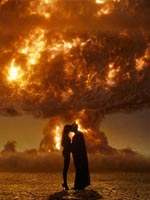 (I was going to hold onto this and some more stuff until the beginning of the week, but we're ready to go so let's hit it during the weekend.)
I'm not one of those guys who says this work or that cannot be filmed.  I don't share the arrogance that demands faithful representation of a beloved piece of literature on the screen, and even with my own devotion to comic books and, of course, Alan Moore's "Watchmen," I always thought there was a great movie in there waiting to be unleashed.
I think it was Quentin Tarantino who once said he would never translate a comic book to the screen because there are just too many damn people to please.  There's some truth there, mixed with a little pomposity.  I had Zack Snyder's back.  I enjoyed "Dawn of the Dead" enough and was one of "300"'s few serious vocal champions.  I would have preferred a director with a penchant for grit take up the reins on "Watchmen" but I found myself curiously okay with the stylized ballet Snyder seemed to be interested in creating.
But in a nutshell, "Watchmen" damn near stole my faith in movies.  Maybe that's a stretch, but come on, it's all up there on the screen.  Minus a climax that was likely changed for the better given what will and won't work in a film, every inch of Alan Moore and Dave Gibbons's hard work is laid out for us at 24 frames per second.  And you know what?  It doesn't work.  And we can't say anyone involved in the production botched the adaptation because it's faithful to a fault.
I think we can blame the woeful, stomach-churning, cringe-worthy failure that this is on the frothing-at-the-mouth fandom that scared Snyder and company away from being creative, from understanding the value of compositing (a tactic Christopher Nolan has so expertly employed with the Batman franchise) and from, at best, realizing that the tone we manifest in our minds as we flip through a work of graphic fiction can't be satisfied by lifting nearly every inch of hard-boiled, wordy (if eloquent) narration.  God bless him for trying to please them all, but what they wanted ain't art.
"Watchmen" is an awful, awful film.
Snyder shows no sense of rhythm here.  Every musical cue is worth a cringe.  Let's throw "Desolation Row" in there at the end, you know, because the first chapter of the book is called "At Midnight All the Agents."  Get it?  Let's toss Tears For Fears' "Everybody Wants to Rule the World" in the background of a key Ozymandias scene, you know, because we can't help but continue the "look, it's 1985" thing going and because it's neat and ironic.  Get it?
On and on.  Let's stick "All Along the Watchtower" in there because we have a cool shot of Rorschach and Nite Owl walking through the snow that we can match tot he lyric "two riders were approaching" for no good reason whatsoever.  Let's see if we can break "Munich"'s record for laughs during a sex scene.  Let's have the gall to put nipples on a superhero costume after a decade of backlash against a franchise that did the same.
It's not all on Snyder.  This is the biggest of pressure projects.  But two films into his career, I don't think he ultimately had the balls to take this on, nor the experience to understand why.  "Watchmen"'s crash-and-burn ride into the annals of "all-time-worst-films-ever" territory can be placed squarely at the feet of a comic-obsessed community that demands their beloved titles receive the white glove treatment.  They share Snyder's lack of understanding that replication is folly.
Moore's 12-installment masterpiece is, first and foremost, a success of the written word.  Each chapter is littered with nuance and artful brushstrokes that ultimately could never be conveyed to the screen.  I saw it with my own eyes.  For example, one of the most brilliant volumes ever written (chapter 3 of "Watchmen") played out in front of me almost to the letter, but it didn't have that time-bending intensity it did when I read it and ascribed my own atmosphere.  I was shocked: Moore was right.
There is plenty to chew on where the political fabric of this film is concerned, whether the on-the-nose paranoia works simply because it is so on-the-nose, how we might interpret the film differently a year ago, and therefore, through a different prism, etc.  But all I can think of, right here and now, is how wrong every inch of this production felt, from start to finish (minus that a nifty opening credits montage).
Hey, look at the bright side: at least now we know.
Have your say in this week's sidebar poll (and at length below, if you wish): What did you think of "Watchmen?"