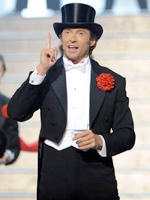 Alright, we already we handled the "Slumdog Millionaire" backlash and overall sense of hatred toward the film from movie-goers who simply couldn't handle the boredom of an awards season that was written.  Today, it's time to take the folks to task who couldn't get to their computers quickly enough to bemoan the Academy's presentation of 25 honors Sunday night.
Patrick Goldstein and Mary McNamara were two of the first to cut loose, leaving their own LA Times colleague T.J. Simers to wonder if they thought they could have done a better job.  And we all knew Nikki Finke was going to breathe fire because that's what crotchety dragons do.
And yet, despite the sniping — ratings were up.  And they'll probably go up again next year just due to the anticipation created by this year's telecast, which was the plan all along.
Pete Hammond, in his final installment of Notes on a Season this year, addressed the issue with this wrap-up of the reaction to the reaction:
It was fitting that it all ended Sunday night with an Oscar ceremony that was one for the ages — a beautifully produced show by Bill Condon and Laurence Mark that captured everything we still love about movies and the Academy Awards. Those bloggers, columnists and critics out there who were panning it before it was even over have had to run back into their holes and take cover from the vociferous reaction, in and out of the industry, to their ill-conceived attack.

"I don't get the criticism," one longtime academy member told me Monday. "This was an amazing show. You could just feel it in waves as it went along. Those guys [Condon and Mark], they are really good."

I'm told the academy itself was fielding numerous calls complaining about the complainers — but, hey, everyone is entitled to an opinion even if it was formed before the show made it to the air. You can't please everyone, but with this production the Academy got back on track — and the 13% increase in ratings was the cherry on top. Here's hoping this team returns next year. Clearly, the public still has a jones on for the Oscars when they are produced with smarts and style.
Smack down.