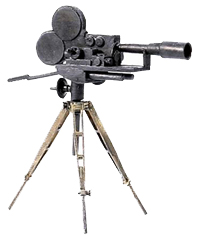 What can I say? It was a big night for "Slumdog Millionaire" at the 81st Annual Academy Awards on Sunday.
While I do like the film a great deal, I found its dominance this awards season unnecessarily monotonous.  For instance, I preferred Thomas Newman's work in both music categories this year, but I was nonetheless very happy with A.R. Rahman's triumphs. The music branch needs to be seriously rewired, though.  Their choices in recent years have often been bizarre and at times terrible.
Anthony Dod Mantle's deserved victory in the cinematography feield means that Roger Deakins is still waiting for that first statuette. (Though, might I add, as effective as the work is in "The Reader," I would have found it slightly disappointing if Deakins had finally won this year, considering Chris Menges shot most of the movie.) I would also like to think that Wally Pfister will eventually triumph in this category, considering Pfister has received three nominations in the last four years (all on Christopher Nolan projects).
Chris Dickens winning Best Film Editing was probably the easiest call of all the tech categories. Though I would say Angus Wall, Kirk Baxter, Elliot Graham and especially Lee Smith have built up good will with their fellow editors, while Mike Hill and Daniel P. Hanley must be considered in contention whenever they make a prestigious film with Ron Howard.
A win for Best Sound Mixing seems a tad over-the-top for the "Slumdog" train, I must admit. The film featured effective sound work but the best of the year?  That said, after BAFTA and CAS wins, the victory is not exactly unexpected, or really, obscenely ridiculous.
Best Sound Editing, however, proved the one foil to "Slumdog" sweeping its categories. Richard King's second Oscar, for "The Dark Knight," was not my prediction (I went with "WALL-E") nor my preference (same). Nonetheless, I am pleased to see that the voters did not blindly check off the same film in every category possible. And I did predict that this would be one category where "Slumdog" would not prevail.
As for Besst Costume Design, Michael O'Connor's win for "The Duchess" was certainly the odds-on favorite. My Jacqueline West prediction for "The Curious Case of Benjamin Button" was admittedly a hunch I had for a couple of months that I did not want to abandon at the last minute. I cannot fault O'Connor's design but I do feel that the monotony of royal corsets winning every year (this year's victor follows triumphs for "Marie-Antoinette" and "Elizabeth: The Golden Age") is becoming tiresome.
Don Burt and Victor Zolfo winning for Best Art Direction, however, was expected by virtually everybody. Not only that, but it was tremendously deserved.  Other wins for "The Curious Case of Benjamin Button" in the makeup and visual effects categories were likewise expected, bringing the tally up to three. While this likely remains a mildly disappointing statistic considering how many nominations the film received, three Oscars is nothing to scoff at.
And so we conclude the third year of Tech Support here at InContention. Thank you, as always, for reading.