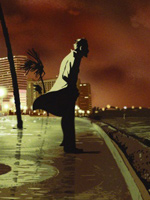 In the largely good-natured responses to a largely good-natured Oscar ceremony, only one result has been greeted with any real rancour from critics or pundits –- the "upset" (anticipated by some clever folks at the eleventh hour) in the Best Foreign Language Film category. But as much sympathy as one feels for the disappointed team behind the upended frontrunner, "Waltz With Bashir," I can't help feeling a little bad for the ultimate victor, "Departures," whose moment in the sun is being somewhat tainted by the amount of resentment being cast its way.
David Carr describes "Bashir's" loss as "the biggest miss of the year," adding that the Japanese film's victory signals a triumph of convention over innovation. Meanwhile, Sasha Stone, who is usually at pains to be the most disinterested of Oscar bloggers, suggests that the win is "the worst of this year." But these are mild jabs compared to Scott Foundas' furious rant over the affair, in which he dismisses "Departures" as a "relentlessly mediocre tearjerker" and rages that "Bashir" was simply too sophisticated for the voters:
Folman's film was simply too innovative for the Academy's notoriously calcified tastes … While Waltz builds to a conclusion that many (including this critic) counted among the most emotionally devastating in movies last year, it is a moment that is earned by the film rather than cheaply calculated, and which raises more questions than it answers. That's something that many viewers of Folman's film have found thrilling to behold, but which may well have inspired paroxysms of rage in Academy voters who stand by the belief that a movie should have a clear beginning, middle and end and send people out of the theater feeling better about "humanity."
I must admit to having mixed feelings about the whole business. I must emphasise that I have yet to see "Departures," so I can make no statement about whether or not it's an undeserving winner –- though I confess I'd be surprised if it's as striking or provocative a piece of work as "Bashir." And while I'm not as ardent a devotee of Folman's film as many critics, I can't deny that I was excited by the possibility of an animated documentary breaking new ground in a frequently conservative category. (On another tack, as I've said before, I agree with Foundas that the film's omission from the ceremony's 'Animation 2008' montage was inexplicable.)
But I am bothered by the way such pieces as Foundas' imply that "Bashir" was somehow entitled to the award, that it was inarguably the most deserving of the nominees. There are plenty of viewers who feel, as I do, that the film wasn't quite a home run, that its extraordinary formal beauty sometimes obscures its emotional throughline, making for an undeniable work of art that is nonetheless easier to admire than it is to love.
It's for this reason that, were I in the shoes of an Academy member, would never have considered voting for "Waltz With Bashir," and would instead have cast my vote for "The Class," an equally daring, contemporary piece of cinema that satisfied me more on an emotional and intellectual level.
With that said, I completely understand how not all viewers would respond to a film as talky and structurally jagged as "The Class," just as I didn't entirely warm to Folman's vision in "Waltz With Bashir." I'm not saying the Academy was necessarily right to go the apparently safe route in choosing "Departures," but I do understand why they might not have wanted to vote for "Bashir." As it stands, there was more than one "right" choice in this category, and it's a little obtuse to suggest otherwise. 
I realize, of course, that I've been guilty of exactly such blindly incensed reactions to this frequently frustrating category –- one that, whether you agree with their decision or not, definitely needs a rethink in terms of what films it even allows to compete in the first place. In January, I spent a lot of column inches railing against their decision to exclude "Gomorrah" from the shortlist of nine films, and perhaps I shouldn't have.
The selecting committee was obviously left slightly cold by the Italian entry, just as I was by "Bashir," and as much as I still disagree with their decision, I have to bear in mind that film is an ever-debatable artform. I wanted "Gomorrah" to have a chance to contend for the big prize, but it's a mistake to think any one film is entitled to such honours.     
It may be some consolation to the "Bashir" defenders (and indeed, to my fellow "Class" fanatics), however, that Best Foreign Language Film is one Oscar category where a win can do very little for a film's reputation in the long haul. Upset victors are, after all, frequent here, and for every one that is reasonable or even commendable ("The Lives of Others," for example) there are numerous others that are as headscratching now as the moment the envelope was opened.
Back in 1991, nobody apart from Academy voters thought that "Mediterraneo" was a better film than "Raise the Red Lantern," and nobody does now. 1990's winner, "Jouney of Hope" may be widely forgotten today, but "Cyrano de Bergerac" remains timeless. "Kagemusha," "The Umbrellas of Cherbourg" and "Seven Beauties" are just three of the films that have aged infinitely better than those they lost to, and that's not even getting into the innumerable classics that were never even eligible in the first place.  
In other words, the Oscar does about as little to secure a foreign-language film's place in history as, well, the personal opinion of any given film critic. If "Waltz With Bashir" is to hold its place in the cinematic canon of this decade –- and I suspect it will –- the film (and its champions) may do well to wear its loser's badge with pride.