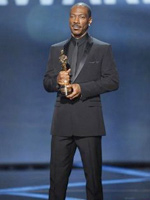 UPDATE: Condon apparently has said he wants an August 2010 release for the film and Fox Searchlight has agreed to it.  See note below regarding Condon's desire to stay away from anything resembling an Oscar season.
EARLIER: I've known about Eddie Murphy being attached to Bill Condon's Richard Pryor movie for weeks but, you know, you kind of have to keep quiet with secrets in this town and watch the news be broken elsewhere.  David Poland seems to think this is Eddie Murphy's Oscar power play without offering a shred of copy to the fact that one of Condon's stipulations when it came to this film is a release date far away from the Oscar season fray, which left the director dizzy and probably disenchanted during the 2006 run for "Dreamgirls."
Anyway, I wasn't immediately interested in the casting decision but I think it'll be intriguing to watch Murphy work through this character.  He and Pryor were close friends, of course, so it's almost serendipity.  Anyone here as into "Harlem Nights" as I am?  A late-80s classic.  And I love Murphy's bit in "Raw" (or was it Delirious?") when he talks about Bill Cosby taking umbrage with his use of foul language in his bits.  He called Pryor, a little upset, and Pryor said, "Tell Bill Cosby I said suck my d—."  The emphasis on the "my" is intentional, another layer of the joke's humor — cracks me up every time.
But back to Condon and Oscar.  I'm sure Fox Searchlight will be a wonderful home for the project, but seriously, a late summer release is the kind of thing the director has in mind.  None of this October, November, Oscar glut stuff.  Maybe the studio can change his mind but I doubt it.  Anyway, I'm quite looking forward to the film, which has been thoroughly researched by Condon for the last two years and should be a wonderful lasting impression of one of the greatest comedians of all time.