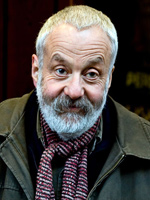 If, like yours truly, you're one of those who believe that British auteur Mike Leigh was robbed on Sunday night, you'll thoroughly enjoy his Oscar diary. Ever the Hollywood outsider, Leigh attended the Academy Awards with his two adult sons as his guests, and he reflects on the ensuing madness with all the droll, dry humour present in so many of his films.
As you would expect, he's not all that bothered about losing the Original Screenplay award for "Happy-Go-Lucky," not least because he learned shortly before the ceremony that the bookies had him as a 54-1 outsider. (He mordantly notes that his son Toby then placed £20 on him, "just in case.") In any case, he professes to liking "Milk" a great deal, and rather enjoyed the ceremony as a whole, describing it with typical British reserve as "far less tacky and schmaltzy than usual." What I really liked, however, is his candour on the awards themselves:
The truth is, you only get the loser's hump about the winners if you think that they're crap, and tonight I get a real buzz out of nearly all the awards. Chuffed for jolly Michael O'Connor (best costumes, The Duchess), who assisted Lindy Hemming on Topsy-Turvy, and delighted that Benjamin Button got only technical awards!

Wanted Mickey Rourke to win best actor (I voted for him) and, no disrespect to Kate and the other girls, I desperately miss Sally (Hawkins). I genuinely can't see how any of their performances are as original, creative, profound, witty or versatile as hers. But there you go.
Sure, most directors would probably say that about their leading ladies, but in this case, he happens to be right. I'm also interested to hear that he's on Team Rourke — I recall sitting behind Leigh at "The Wrestler's" first London screening back in October and observing his evident enthusiasm for the film then.
Finally, Leigh adds how thrilled he is for everyone associated with "Slumdog Millionaire," which of course shares a production company, Film4 Productions, with "Happy-Go-Lucky." (Film4, by the way, is for my money the great unsung hero of 2008 cinema, with a slate that also included "Hunger" and "In Bruges." What a year.)
Anyway, read the rest here — it's great stuff. Much as I enjoy Leigh's self-imposed distance from the hysteria of awards, however, I would love to read his reflections on winning an Oscar one of these days. Next time, Academy.