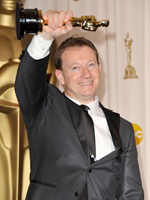 UPDATE: Okay, this is what happens when you skim emails too quickly and don't do the research on your own.  I've corrected the statistical errors on my part.  THIS should be on the money:
Not sure if this bit of trivia has already been consumed and digested, but thanks to Jeremy who sent it in weeks ago.  We've already talked at length about "Slumdog Millionaire"'s Cinderella season marking the winningest awards streak of all time (Oscar, BAFTA, PGA, DGA, WGA, SAG Ensemble, ACE, ASC, CAS, ADG, CDG, USC Scripter — hell, even an MPSE honor).  But the film's Oscar victory Sunday night also marked only the the fourth time a film won Best Picture, Best Director and a screenplay award without a member of the cast being nominated. The others were "Gigi" in 1958, "The Last Emperor" in 1987 and "The Lord of the Rings: The Return of the King" in 2003.
I'll read more carefully next time, I swear.
Other interesting stats contributed by Speaking English and The Z:
• "Slumdog" is the first film to win Best Picture and Best Cinematography since 1999's "American Beauty."
• It is also the first Best Picture winner since 1984's "Amadeus" to win 8 Oscars.
• Additionally, it is the seventh film to win 8 Oscars after "Gone With the Wind," "From Here to Eternity," "On the Waterfront," "Cabaret" and the aforementioned "Amadeus."
• This was the first year since 1994 that all acting winners had been previously nominated.
• Sean Penn is the only actor to win twice this decade.  (Tom O'Neil also notes he is the ninth male actor to win two lead Oscars after Spencer Tracy, Fredric March, Gary Cooper, Marlon Brando, Dustin Hoffman, Tom Hanks, Jack Nicholson and Daniel Day-Lewis.  Twelve actresses have taken two.)
• With Penelope Cruz's victory, Woody Allen is now third behind William Wyler and Fred Zinneman for most performances directed to an Oscar with seven, Chad tells us.
Anything else?