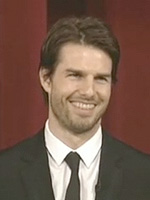 There's always a healthy amount of irritation slung about during an Oscar season regarding the 6,000-strong body of men and women charged with choosing the year's "best" in filmmaking accomplishment.  Some say the group is out of touch, others say voters aren't educated enough in the arenas they choose to award.  For me, I've always felt like the group doesn't approach the task with the proper amount of care and sense of responsibility, a responsibility that should be taken quite seriously.
With that in mind, and regardless of any public bias against the man speaking the words (I've gone into that before), this Tom Cruise monologue that opened the 2002 Oscar telecast, six months after the 9/11 World Trade Center attack, crackles with the kind of spirit I wish was always apparent out of this organization.  When moments of passion such as this are few and far between, moments which lack any real sense of dishonesty or showmanship (beyond Cruise's skill as an orator), I feel there is something wrong with the proceedings.
I know Bill Condon and Larry Mark are going to aim at making tonight swift and fun, but I hope it doesn't lose a certain well-intentioned sense of sincerity and duty.  It's a tough line to walk, and a thin one between self-righteousness and honest passion.  Cruise nailed it.