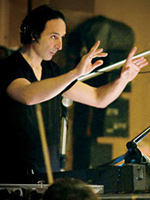 One of my favorite pre-Oscar specials is music critic Andy Trudeau's analysis of the Oscar nominated original scores on NPR's weekend edition.  He used to stretch the piece over two weekends and discuss the pieces with the show's host, but this year he both waited until the last minute and did the piece as a stand-alone by himself.
Trudeau's favorite of the nominees (and mine) is Alexandre Desplats beautiful work on "The Curious Case of Benjamin Button," putting together compositions that can be played both forward and backward.  Last year his pick was Darion Marianelli and "Atonement," so maybe he'll be spot on again this year — but I think we all doubt that.
"Call me old-fashioned, but if I had a ballot, I'd go for a score with strong melodies, crystalline orchestration; one that takes us on an emotional journey," Trudeau says.  "So I'm casting my one, unofficial vote for 'The Curious Case of Benjamin Button' by Alexandre Desplat."
Listening to the piece I was suddenly taken with how competitive it might actually be.  The A.R. Rahman win has become a foregone conclusion, and for many good reasons.  In addition to the "Slumdog" sweep train, the Academy simply likes music from other cultures.  "Babel," "Frida and "Crouching Tiger, Hidden Dragon" are examples.  Maybe the work simply stands out a little more from the rest of the field.  I don't know, but it'll be interesting to see how the re-instated allowance for CD mailers made a difference.  "Button" probably has the most beautiful, listenable score, but Thomas Newman's work on "WALL-E" is also brilliant.
Anyway, it's a short piece, well worth the listen this Oscar morning.  Head on over and feed your brain as we wait for the season to come to an end.  And check out Gerard's Tech Support interview with Desplat here and with Rahman here if you missed them in the last few weeks.