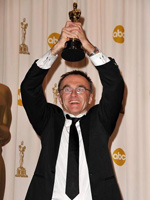 In the final analysis, there isn't much to say other than: What a captivating way to put a bow on the worst and, ultimately, most boring Oscar season of all time.  The 81st annual Academy Awards swiftly went down earlier this evening with few surprise winners and a classy new sheen.  It was captivating and, at times, inspiring.  Here are my thoughts on Hollywood's biggest night:
The winners
I did extremely well with my predictions this year, nailing 21 of the 24 categories and making good with gambles in the foreign language film and short film categories.  I stuck with my heart on Mickey Rourke despite the smart money being on Sean Penn, but regardless of the strong desire to see the former holding an Oscar in his hands and delivering one more barn-burning speech, it is, of course, impossible to argue with Sean Penn's expert work in "Milk."  His heartfelt acceptance was a highlight and it all felt somehow more complete than it did five years ago.
That "Departures" win took the wind out of the sails of one of the year's most ingenious productions and yes, this is a committee that still needs a major overhaul.  I don't think I could possibly say it enough.  That should take nothing away from Japan's victory, mind you, because their submission is a delightful film that won't deserve most of the ill will coming its way from those who haven't even seen it.  But "Bashir" seems to have wrongfully faced an uphill battle from the start.
The sound categories (hotly debated all week) proved once again that the Academy doesn't understand the impact of mixers and editors on animated films.  "Slumdog Millionaire" took the mixing award (I'm kicking myself for changing that), while "The Dark Knight" took the sound editing trophy.
Regarding those shorts, by the way, Pixar remains winless in the animated field since 2001's "For the Birds" (the gorgeous "La Maison en Petits Cubes" rightly won tonight), while "Toyland," with its ambitious structure (for a short) and obviously baity subject matter reigned supreme in live action.
The only award I missed kind of irritated me, I have to admit: Best Documentary Short.  "Smile Pinki" took down what I thought to be the best of the field (and being the most cinematic, the most likely winner), Steve Okazaki's "The Conscience of Nhem En."  But there was a concerted publicity effort behind the former that maybe I should have paid more attention to.
(More, plus a full list of tonight's Oscar winners, after the jump.)
The rest: anticipated.  Winslet didn't hypervenelate too much, Cruz gave a cute speech preparing her for the circuit once again next year and Heath Ledger's family gave a touching acceptance on his behalf for what has to be considered the performance of the year in "The Dark Knight."  I couldn't imagine a better way to close this chapter.
The show
Bill Condon and Laurence Mark deserve a big pat on the back for injecting more class into an evening that has largely fallen the way of pomposity and snooze-worthy pacing.  Building the show to mirror a film's journey to the screen was a simple but somewhat brilliant way into a hefty slate of 24 Oscar presentations.
Grouping the design categories and the post-production awards into separate segments made for an efficient and streamlined conveyor belt for seven of the night's awards.  I was shocked how far along we were 60 minutes into the thing.
Hugh Jackman, meanwhile, didn't get in the way of the proceedings, had a healthy sense of humor and charmed the pants off the room.  The opening number was great, though the Baz Luhrmann-choreographed ode to musicals midway through could have been trimmed down.  I wouldn't say Jackman set a new standard for Oscar hosting duties, but he certainly presented a well-argued case for less is more.
The acting award presentations were fascinating to watch.  Even though I was reminded of "Superman II" at times, the quintet of past winners offering their praise to each nominee was a nice way of showing camaraderie during a night of competition and really embossing the idea that this is an evening that should be seen as celebratory.
The music medley worked for the most part, though John Legend wasn't as vocally prepared as he could have been.  The mash-up concept was really cool but shouldn't be revisited unless it works well with the contenders like it did here.  After all, a worldly-tinged toon tune sandwiched between two energetic Indian tracks kind of flows, but Springsteen's "The Wrestler" might not have been so organic to the mix.  Basically, I hope future producers take these fresh concepts on a year-by-year basis if they're ever tossed around again.
I am happy to note that my trepidation was misplaced for the sing-through In Memoriam segment.  Queen Latifah's belting of "I'll Be Seeing You" over a cleverly constructed montage of the year's dearly departed entertainment figures was much more tasteful than I anticipated.
Oh, and probably the best presentation of the night, for me, was the screenplay categories, which boasted a hilarious intro and a nice overall comedic concept.  Coming early in the show worked rather well, too.
And the stage was stunning.  Bravo to all involved.
(UPDATE: I don't know why I forgot to mention this last night, but the Seth Rogen/James Franco/Janusz Kaminski skit was absolutely hilarious.  Anyone who's ever talked to Kaminski knows how irreverent and funny he can be, so I loved seeing him up on that screen.  But come on, you all know my feelings on "Pineapple Express."  Great to see it get some love on the show.)
The season
Well, it's over, isn't it?  The writing has been on the wall since December and, for some of us, since late November.  No one can argue with how sluggish the year has become, but as I've noted, it's bittersweet for me because my favorite film of 2008 just won eight Oscars
Yes, I wanted to see Wally Pfister up there.  Yes, "WALL-E" deserved more notice for certain technical aspects.  Yes, there is still irritation left over from the nominations announcement a month ago.  But this, the first relative sweep in five years, seems to have been a great way to cleanse the pallette.  Bring on 2009, which looks to have an interesting exciting sense of variety.
But we'll get into that tomorrow.
Congratulations to all of the night's winners, but specifically to Danny Boyle, one of the most exciting working directors, finally with an Oscar to his credit, and the folks at Fox Searchlight who've been working hard for major AMPAS recognition for over a decade.  This was their year and they stuck the landing.  Bravo.
The night's big winners:
Best Picture: "Slumdog Millionaire"
Best Director: Danny Boyle, "Slumdog Millionaire"
Best Actor: Sean Penn, "Milk"
Best Actress: Kate Winslet, "The Reader"
Best Supporting Actor: Heath Ledger, "The Dark Knight"
Best Supporting Actress: Penelope Cruz, "Vicky Cristina Barcelona"
Best Adapted Screenplay: "Slumdog Millionaire"
Best Original Screenplay: "Milk"
Best Art Direction: "The Curious Case of Benjamin Button"
Best Cinematography: "Slumdog Millionaire"
Best Costume Design: "The Duchess"
Best Film Editing: "Slumdog Millionaire"
Best Makeup: "The Curious Case of Benjamin Button"
Best Music (Original Score): "Slumdog Millionaire"
Best Music (Original Song): "Jai Ho" from "Slumdog Millionaire"
Best Sound Editing: "The Dark Knight"
Best Sound Mixing: "Slumdog Millionaire"
Best Visual Effects: "The Curious Case of Benjamin Button"
Best Animated Feature Film: "WALL-E"
Best Foreign Language Film: "Departures"
Best Documentary Feature: "Man on Wire"
Best Documentary Short: "Smile Pinki"
Best Short Film (Animated): "La Maison en Petits Cubes"
Best Short Film (Live Action): "Toyland"
Tally:
"Slumdog Millionaire" — 8
"The Curious Case of Benjamin Button" — 3
"The Dark Knight," "Milk" — 2
"Departures," "The Duchess," "Man on Wire," "The Reader," "Vicky Cristina Barcelona," "WALL-E" — 1