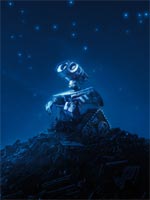 (Expanded thoughts and reasonings on yesterday's list of predictions.)
It's years like 2008 when I throw my hands up and admit (albeit with great reluctance) that my family and friends have been right for the last two decades. Carla, Tom, Kim, Auntie Mavis: I give up. I am insane to care as much as I do about the Oscars. They are stupid. They don't matter, and I really should find something more important and rewarding to care about, like, oh, needlepoint classes or professional darts championships.
But who am I kidding? I will always care about the Oscars, even in years like this when the race is so dry, and its significance so questionable, that I take great care in not caring. In a year when so few of my personal favourites have cracked the contenders list, it has at least been interesting to sit back and watch the furore unfold over the Academy voters' spectacularly self-sabotaging antics this year.
I've been wrong about a lot of things this year (Kris scoffed at my naive suggestion back in July that "Happy-Go-Lucky" could be a Best Picture nominee, and he was right to), and right about … well … "Milk's" nomination for Best Costume Design. (Hey, let me salvage some glory from this year's meagre spoils.) I don't expect to be a hell of a lot more successful with the following predictions, but you never know. It's still been a lot of fun riding out the season with you this year – here's to a better slate of contenders (and a lot less grousing from me) in 12 months' time.
BEST PICTURE
Apart from the fact that it is the most imaginative and entertaining of this year's feeble clutch of nominees, the reason "Slumdog Millionaire" has a stranglehold on this category is because it's the only one of the five that has any discernible relationship to contemporary cinema. The other four all feel to varying degrees like the finely-tooled Best Picture winners of decades past, but the younger, more curious Academy members have been moving away from such self-consciously packaged 'prestige product' in the past few years – even if they need a lot of pointing towards what to reward in its stead.
"Slumdog" may not be as interesting or subversive as last year's winner in the category (and I'm still not convinced that it's about anything at all), but it still appears an infinitely more vital, current work than, say, "Frost/Nixon" (which I know I took some flak for slating back in October, but has any Best Picture nominee in recent memory aroused less feeling in anyone?), and in a race this shallow, appearance is all. Ironically, I think only "The Dark Knight" or "WALL-E" could have made a competition of this.
Will win: "Slumdog Millionaire"
Should win: "Slumdog Millionaire"
Should really win: "The Class"
BEST DIRECTOR
Why bother to put any thought into an argument for this category that's different from the one for Best Picture, when the Academy evidently couldn't be bothered to put any thought into a different slate of nominees? (Seriously, you put forward a Best Picture lineup this uninspired, and decide that this is the year to do a rare 5-for-5 matchup between the categories? Hang your head, directors' branch.) Anyway, you don't need me to tell you Danny Boyle has this wrapped up, and while "Slumdog" isn't exactly my favourite film of his, allow me a small frisson of pleasure that the lovable rogue behind such rebel works as "Trainspotting," "Shallow Grave" and "28 Days Later" will forever have the prefix "Academy Award winner" welded to his name.
Will win: Danny Boyle, "Slumdog Millionaire"
Should win: Danny Boyle, "Slumdog Millionaire"
Should really win: Mike Leigh, "Happy-Go-Lucky"
BEST ACTOR
I don't think there's anything more to say about this category other than never in my lifetime did I think I'd find myself rooting against Sean Penn – and for a fine performance, at that. However, as compassionate and pristinely observed as Penn's work in "Milk" was, I couldn't sense any new ground being broken there, either within the increasingly populous canon of biopic performances, or Penn's own career. (His extraordinary characterisation of Matthew Poncelet thirteen years years ago remains the man's high-water mark for me.)
Mickey Rourke's performance in "The Wrestler," by contrast, felt rather more daring and unique – a high-wire act of near-autobiographical self-analysis and disappearance into the other. Some pundits are rather condescendingly suggesting that Rourke has this on goodwill alone (and indeed I have felt the same kind of intangible shift in sentiment in the home stretch that we did with Marion Cotillard last year), but that is to ignore what a thing of complex beauty Rourke's performance is.
Will win: Mickey Rourke, "The Wrestler"
Should win: Mickey Rourke, "The Wrestler"
Should be nominated: Michael Fassbender, "Hunger"
BEST ACTRESS
For me, one of the season's biggest mysteries is how the Best Actress category managed to extract such a dreary slate of nominees from a field of contenders that looked, at the start of the season, to be the most richly, creatively stacked in many a year. I accept that none of my three standard-bearing female performances of the year (Michelle Williams, Kristin Scott Thomas and, of course, Sally Hawkins) exactly represent typical fodder for the Academy's acting branch, which likes its drama with a healthy side-serving of tears and shouting. But in a year when three of the eventual nominees are, I think, borderline at best, was it too much to ask for at least one of those ladies to sneak in?
Anyway, spilt milk and all that. The amount of "should win" buzz in the air is causing me to think that it is actually Melissa Leo, not Meryl Streep, who is the real dark horse in this race, but I doubt that's enough to overcome an overdue actress in a weighty role in a lone Best Picture nominee. Kate Winslet will walk off with this one, paving the way for people to ask, decades hence, "She won for that?!"
Will win: Kate Winslet, "The Reader"
Should win: Melissa Leo, "Frozen River"
Should really win: Sally Hawkins, "Happy-Go-Lucky"
BEST SUPPORTING ACTOR
In the words of the Corn Flakes box, The Original and Best. Nothing has shifted in this race since July (and arguably rather earlier than that), and nothing should. In a way, it's a shame that Heath Ledger's prismatic, endlessly resourceful reinterpretation of The Joker (from this angle, Jack Lemmon, from that, Hannibal Lecter) is in such a class of its own, because the other contenders represent an unusually inspired quartet for this category. In any other year, it'd be quite some contest, but in the end, the only regret is that Ledger won't be there to accept his inevitable statuette.
Will win: Heath Ledger, "The Dark Knight"
Should win: Heath Ledger, "The Dark Knight"
Should be nominated: Eddie Marsan, "Happy-Go-Lucky"
BEST SUPPORTING ACTRESS
I don't know why I'm resisting the very alluring pull of Penelope Cruz in this category – it's certainly a terrific performance in a terrific and undervalued (by the Academy, at least) film – but the voices in my head have been telling me 'no' all season. Perhaps it's because (short of honouring Marisa Tomei) this win just feels a little too cool for this year's voter mindset. Perhaps it's because the film couldn't even manage a screenplay nod. Perhaps it's because she only shows up about halfway through. Perhaps it's because, between "Nine" and "Broken Embraces," Cruz looks set to have an even hotter 2009 – is the Academy afraid of jumping the gun? Or perhaps, more likely, I'm wrong and she'll win, like almost everyone else says she will.
Still, Viola Davis owns the near-indisputable standout moments of a film the Academy obviously respected, and I can't help wondering whether, in a race that's been largely hogged by movie stars, the voters may decide to rally around an esteemed, true-blue character actor here. "Somebody give her a movie!" Meryl Streep cried at the SAG Awards. She may as well have substituted the word "movie" with "Oscar."
Will win: Viola Davis, "Doubt"
Should win: Marisa Tomei, "The Wrestler"
Should really win: Samantha Morton, "Synecdoche, New York"
BEST ORIGINAL SCREENPLAY
Unlike Kris, in terms of depth and innovation, I think this is easily the year's standout set of nominees, which is perhaps why I've been so reluctant to embrace the (very strong) possibility of "Milk" winning – from where I'm standing, it would represent the least exciting possible outcome in an otherwise very exciting field. I must confess I sense "WALL-E's" momentum waning here (Disney really should have campaigned harder in this race), but I convinced myself some weeks ago that a win for "Milk," however logical, would be atypical in a category that has recently prized more distinctive writerly voices than that of Dustin Lance Black. So while I'm not going to back out now, I'm not exactly hopeful. Mike Leigh, meanwhile, must be content with chalking up his sixth vain nomination – will the general Academy voters ever get his genius?
Will win: "WALL-E"
Should win: "Happy-Go-Lucky"
Should really win: "Synecdoche, New York"
BEST ADAPTED SCREENPLAY
There may be nothing to discuss in terms of predicting this dismally weak category, but I'm having rather more trouble settling on a "should win" prediction – there's not a single screenplay here that I don't find problematic in some way, major or minor. I gravitated towards "The Curious Case of Benjamin Button" for a while, and I do think it is the most beautifully wrought of the nominees, but distance has persuaded me that the its ideas ultimately cannot bear the weight of its concepts. Eric Roth has constructed an ornate mechanical bird of a script: it can talk, but it cannot fly. Simon Beaufoy's screenplay for "Slumdog Millionaire" is an equally ephemeral work that wavers on what it wants to say, but the wit of its structure and the vigour of its language at least does a better job of disguising that truth. (Meanwhile, the likes of "The Class," "Gomorrah" and "Wendy and Lucy" should probably feel honoured not to be in such company.)
Will win: "Slumdog Millionaire"
Should win: "Slumdog Millionaire"
Should really win: "The Class"
BEST FOREIGN LANGUAGE FILM
I fully admit that this is one category where I'm letting myself be guided to some extent by wishful thinking. However, I should explain that my prediction is led less by any conviction that the milquetoast Academy voters will get the thrilling formal invention and conversational artistry of "The Class" – and believe me, if they do, you'll hear my cheers from across the Atlantic – than by an instinctive suspicion that they will not get the avant-garde visual stylings and bleak anti-narrative of presumed frontrunner "Waltz With Bashir."
The amount of pundits (including Kris) clambering onto the "Departures" bandwagon in the past week suggests that they share my doubts that the Academy is ready to crown an animated documentary in this race, and I am certainly tempted to join them – but I feel disingenuous predicting a film I knew nearly nothing about until two days previously. If I could offer up "Not 'Waltz With Bashir'" as I prediction, I would – and hey, I'd probably still be wrong.
Will win: "The Class"
Should win: "The Class"
Should be nominated: "Gomorrah"
BEST ANIMATED FEATURE
The Annie Awards sure threw a spanner into the work in this race, right? Right? Nah, I don't think so either.
Will win: "WALL-E"
Should win: "WALL-E"
Should be nominated: "Waltz With Bashir"
BEST DOCUMENTARY FEATURE
Right up until about ten minutes before I e-mailed off my final predictions to Kris, I had "Trouble the Water" pencilled in as my prediction here. My reasoning was admittedly rather simplistic. Much as I admire the grace and subtlety with which James Marsh assembled runaway favourite "Man on Wire," I don't understand how anyone can watch Carl Deal and Tia Lessin's devastating gut-punch on the horrors and hopes of surviving Hurricane Katrina, and not feel both aesthetically and sentimentally compelled to vote for the latter.
But then either reality struck or I lost my nerve, or both, because obviously any number of voters and critics in any number of precursors weren't as persuaded as I. (The fact that Academy voters have to see all the nominees might make a difference, but I doubt "Water" went entirely unseen by the precursor voters either.) So I'm playing it safe, but my gut still nags that the more emotive film may be the one to beat.
Will win: "Man on Wire"
Should win: "Trouble the Water"
Should be nominated: "Of Time and the City"
BEST ART DIRECTION
I'm not sure why "Benjamin Button's" attractive, intelligent but not exactly imagination-firing design has made it so apparently unbeatable here, but in a category full of such similarly studied, muted work – without the rich stylings of a Rick Heinrichs or a Dante Ferretti to capture the 'wow' vote – a Best Picture nod makes all the difference. I'd personally rather see Kristi Zea win for her subtly claustrophobic spaces that vitally inform the storytelling within, but I can't really argue with the likely outcome here.
Will win: "The Curious Case of Benjamin Button"
Should win: "Revolutionary Road"
Should really win: "Synecdoche, New York"
BEST CINEMATOGRAPHY
Another category where I respect much of the work nominated ("Changeling" nominee Tom Stern, in particular, hasn't got enough credit from the pundits, ghastly as I found the film in other respects), without loving any of it the way I did at least three of the nominees last year. My own personal prize is a near-toss-up between "The Dark Knight" and "Slumdog Millionaire," both atypical contenders in this category in that they prioritise kineticism and movement over painterly, statically beautifully imagery. If the Academy is still thinking in terms of which film makes the prettiest stills, "Button" could sneak in, but I suspect "Slumdog's" florid colour palette will prove picturesque enough for their liking.
Will win: "Slumdog Millionaire"
Should win: "Slumdog Millionaire"
Should really win: "Hunger"
BEST COSTUME DESIGN
The common line is that "The Duchess" will win this because it has the most lavishly ruffled threads of the lot, but that's not quite giving Michael O'Connor's work enough credit. (Or some Academy voters, for that matter: that very intelligent nod for "Milk" suggests they aren't thinking entirely with their eyes.) Sure, last year's win for "Elizabeth: The Golden Age" proved that the Academy does equate "most/biggest costumes" with "best," but like "Marie-Antoinette" the year before, "The Duchess" deftly employs dress (and undress, in a manner Stella Bruzzi might approve of) to define boundaries of character and gender; the costume design is by far the most intellectually sophisticated element of the film. I'm not saying that's why the Academy will vote for it, but it's why they should.
Will win: "The Duchess"
Should win: "The Duchess"
Should be nominated: "Happy-Go-Lucky"
BEST FILM EDITING
If the Academy had given us a more intriguing slate of nominees to ponder, I might have something of substance to say about the category, but they didn't, and I don't. Suffice to say that this is one of those rare years when the busiest cutting in contention (so often what the voters look for) also happens to be that which most effectively serves and shapes the narrative.
Will win: "Slumdog Millionaire"
Should win: "Slumdog Millionaire"
Should really win: "Gomorrah"
BEST MAKEUP
Not much to comment on here, though that's not to say it isn't a sterling, generally deserving lineup of contenders. Perhaps it's the contrarian in me that wants the less elaborate, less groundbreaking but, for me, infinitely more resonant character work in "The Dark Knight" to triumph over the admittedly breathtaking wizardry on display elsewhere, but I guess that's why I'm not a makeup artist. (That said, neither are most of the voters – so I'm hesitant to call "Button" a sure thing here.)
Will win: "The Curious Case of Benjamin Button"
Should win: "The Dark Knight"
Should really win: "Synecdoche, New York"
BEST MUSIC (ORIGINAL SCORE)
In a field stuffed with works from brilliant composers that don't measure up to their finest work (sure, Desplat's score for "Button" is as intricate and swoonworthy as you'd expect from the man, but I missed the discordant layers of the uncanny that made "Birth" such an unsettling classic, while I honestly can't remember a note of Danny Elfman's "Milk" compositions), A.R. Rahman's relative unfamiliarity to voters gives him an edge in this race – unless they are devotees of Bollywood pop (or "Elizabeth: The Golden Age"), they have little to compare his nominated work to. That may make his "Slumdog" score appear a little fresher than it is, but it's a rousing, inventive piece of work all the same.
Will win: "Slumdog Millionaire"
Should win: "Slumdog Millionaire"
Should really win: "The Dark Knight"
BEST MUSIC (ORIGINAL SONG)
I've been predicting "Jai Ho" to win this category ever since August, when I first heard that this crowdpleasing little indie that a lot of people were buzzing about had a wicked Bollywood number tacked on the end of it. That was long before I realized "Slumdog Millionaire" even had a prayer of winning Best Picture, let alone that the song would become the theme tune of almost every major precursor ceremony, so why would I change now? Lately, the Academy has leaned toward the most contrarian choice in the category, in which case I suppose "O… Saya" could upset, but I suspect "Jai Ho" is exotic enough for their liking. As for poor Peter Gabriel, I'd have liked his chances more ten years ago, when Phil Collins was still winning gongs for Disney tracks.
Will win: "Jai Ho," "Slumdog Millionaire"
Should win: "O… Saya," "Slumdog Millionaire"
Should really win: "Little Person," "Synecdoche, New York"
BEST SOUND MIXING AND EDITING
I know what you're thinking: combining my predictions in these categories suggests a critical failure to understand the difference between these two distinct crafts, but that's exactly why I've done so – I don't believe the average Academy voter knows the difference. So, given that the three frontrunners are all nominated in both races, I expect the voters to pick their favourite and tick it twice. What that favourite is, on the other hand, is a toss-up. "The Dark Knight" is the LOUDEST nominee, "WALL-E" the most sophisticated, but "Slumdog" is the most well-loved. In a true dead heat of a race, I'm counting on the latter to make the difference.
Will win: "Slumdog Millionaire"
Should win: "WALL-E"
Should be nominated: "Rachel Getting Married" (mixing); "The Wrestler" (editing)
BEST VISUAL EFFECTS
Oh come on, this article is long enough as it is.
Will win: "The Curious Case of Benjamin Button"
Should win: "The Curious Case of Benjamin Button"
Should be nominated: "WALL-E"
OK, that's enough from me. Tomorrow evening, we'll finally have closure. On Monday morning, you'll all be able to revel in my wrongness – and to mourn, one final time, that of the Academy. By Tuesday morning, however, it won't matter. Like I said, Mom, you were right all along.