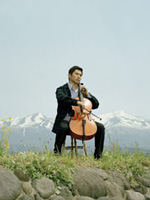 UPDATE: Well, it seems Tom has pulled the post down.  Perhaps, as commenter Josh notes, he got his info a bit twisted.  I'll leave this here for now but check Josh's explanation of the process.  The waters were muddied there for a bit.
EARLIER: Tom O'Neil writes the following over at Gold Derby:
A few days ago Gold Derby reported exclusively that "The Class" got nominated thanks to the new procedure that permits the academy's internal foreign-film committee to overrule voters and add as many as three titles to the five in the category. (EDITOR'S NOTE: This seems to be the misinterpreted information.) The new rule was instituted to dispel the kind of outcry that followed last year's omission of previous Cannes winner "4 Months, 3 Weeks, 2 Days" (Romania).

Now Gold Derby can tattle a bit more. An excellent source tells us that the committee used its prerogative fully, bumping three films nominated by normal procedure in order to add their own choices. (EDITOR'S NOTE: This, too.  It seems the added films came during the first shortlisting process.) What were the other two? We don't know for sure, but it seems logical to assume that they were other art-house darlings beloved by film critics who'd probably raise a ruckus if they were overlooked…
How utterly screwed up this element of the Oscar process is.  It's already pathetic that a special committee has to be there for oversight in the event that a film is snubbed that might cause some outcry, but hey, if there's outcry over your choices, don't bend to the will of the people and/or the critical fraternity.  Have the balls to stand by your own shitty taste.
Anyway, it's more and more obvious that, as I've been saying, the members that tend to vote in this category simply have it out for non-traditional filmmaking, end of story.  This band-aiding of the situation is just folly and, truthfully, there needs to be an entire re-working of the category's process from the ground up.