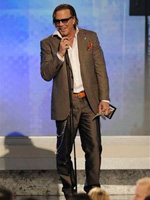 Darren Aronofsky's "The Wrestler" walked away three trophies at today's Independent Spirit Awards, including top honors for Best Actor (Mickey Rourke) and Best Feature.
In his greatest acceptance speech of the season, Rourke seemed fully uninhibited, almost as if he said, "Screw it, ballots are in," and he cut loose.  The tough guy thing poked through here and there as well as a lot of humorous forgetfulness. (He thanked Searchlight honcho Peter Rice and Rice's "boss, Jim Jimanopoulos, or something like that."  Of course he meant Fox studio chief Jim Gianopoulos).  But mostly, it was expletive-laden (like the Spirits like), raunchy and overall, still strangely endearing.
Rourke briefly dedicated the award to recently deceased pet chihuahua Loki, of course, in a choked-up moment that seemed to beautifully contrast with the rest of the rant.  He held the mic like a rock star might, pushing it away during the applause moments and bringing it back to his lips to finish his thoughts.  He also dedicated a solid 60 seconds to his friend Eric Roberts.  "Whatever he did 15, 20 years ago should be forgiven," Rourke said.  "Eric Roberts is the fucking man and he deserves a second chance.  I wish there'd be one God damned filmmaker in this room that'd let him fly because the man is something else."
Melissa Leo's speech in acceptance of the lead actress award — not so much.  She rambled, she seemed self-involved, overly dramatic, pompous…let's just say it's probably a good thing she hasn't accepted too many awards publicly this year because I think it would have damaged her Oscar chances.  That's just me, but it's a hell of a performance and justly rewarded tonight.
"Milk" won two trophies early on, James Franco taking down a win in the Best Supporting Actor category and Dustin Lance Black's first screenplay award.  "Vicky Cristina Barcelona" also secured a pair: Best Screenplay for Woody Allen and Best Supporting Actress for Penelope Cruz.
Tom McCarthy won the Best Director prize despite his film "The Visitor" not showing up in the Best Feature category, while Charlie Kaufman took home the Best First Feature prize for the exceptional "Synecdoche, New York," which also won the pre-announced Robert Altman Award.
(More, plus the full list of winners after the jump.)
Laurent Cantet's "The Class" won Best Foreign Film while Oscar frontrunner "Man on Wire" won Best Documentary.  "The Wrestler"'s third prize was a somewhat surprising but absolutely deserved win in the Best Cinematography category for Maryse Alberti.
The show was a swift affair, clocking in right at the two-hour mark, but that's what it's built to do.  Slap-dash, no commercial breaks, weird musical numbers for each Best Feature nominee, just a chance to unwind the Saturday before the Oscars.  And if they happen to do what their mission statement dictates: reward the best in independent film — then all is well.  Sometimes it doesn't happen, but with a nicely spread out slate of winners this year, I think IFP accomplished their goal.
Best Feature: "The Wrestler"
Best Director: Tom McCarthy, "The Visitor"
Best Male Lead: Mickey Rourke, "The Wrestler"
Best Female Lead: Melissa Leo, "Frozen River"
Best Supporting Male: James Franco, "Milk"
Best Supporting Female: Penelope Cruz, "Vicky Cristina Barcelona"
Best Screenplay: "Vicky Cristina Barcelona"
Best Cinematography: "The Wrestler"
Best First Feature: "Synecdoche, New York"
Best First Screenplay: "Milk"
Best Foreign Film: "The Class"
Best Documentary: "Man on Wire"
Robert Altman Award: "Synecdoche, New York"
John Cassavetes Award: "In Search of a Midnight Kiss"
Lacoste Truer Than Fiction Award: Margaret Brown, "The Order of Myths"
Piaget Producers Award: Heather Rae, "Frozen River"
Someone to Watch Award: Lynn Shelton, "My Effortless Brilliance"