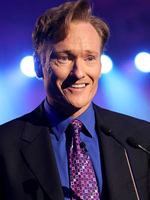 I told myself all week to make sure I caught Conan O'Brien's last show on Late Night yesterday, and, no big surprise, I totally forgot.  I told myself it was probably just as well since for many, many years the show fell out of favor with me.  I was a huge fan in the Andy Richter years back in my high school days, but somehow when Richter left, after maybe a year or so, Conan began to seem stale to me.  I don't know why, I don't know if it was growing up, whatever, but it stopped connecting.
I've been revisiting the show lately, mostly in the way of reminiscence since I knew the clock was ticking.  And luckily enough, given this day and age, I was able to track down the final episode here.  I kind of thought it would be same old, hollow, etc., and to some extent, it was slightly underwhelming for a farewell show.  But I'd be lying if I didn't say I was a bit choked up watching this 15-year-old chapter of the late night comedy tour come to an end.
I particularly liked O'Brien's acknowledgment of late night king (in my opinion) David Letterman, who everyone know deserved "The Tonight Show" long ago.  Here's what the exiting "Late Night" host had to say of his soon-to-be 11:30 competition:
David Letterman invented this late night show.  He is, I believe, one of the most brilliant broadcasters for all time.  I have a terrific amount of respect for him and what he did.  He set the bar absurdly high.  Living in his shadow has been both a burden and an inspiration.
The White Stripes performed a solemn ditty and Will Ferrell made an appearance.  Andy Richter, of course, came out for a trip down memory lane, but it's all over now.
O'Brien begins his stint hosting "The Tonight Show" June 1.