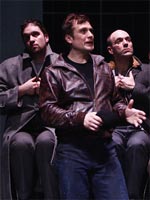 As Sunday's Oscars bear down upon us with a measure of both inevitability and indifference, I can't be the only one fed up of watching, talking or even thinking about certain 2008 nominees — even some of the ones I liked. The sooner we can begin putting some much-needed distance between ourselves and these films, the better, I say.
So it was with great pleasure this evening that I plunged into the refreshing waters of both classic Oscar history and a different medium altogether — by going to see Steven Berkoff's quite stunning reconceptualisation of Elia Kazan's "On the Waterfront" on the West End stage.
The source, of course, needs no introduction: Kazan's searing 1954 study of corruption and violence amid the longshoremen of Hoboken boasts any number of immediately quotable lines, arguably Marlon Brando's signature performance and, of course, eight Academy Awards. It remains, for me, one the Best Picture category's finest hours.
Turning such a flavourfully urban example of realist cinema into a heightened physical theatre exercise may seem a foolhardy task, but Berkoff's interpretation is equal parts devoted tribute (Budd Schulberg's original screenplay is transferred largely intact, while thumping jazz cues speak to Leonard Bernstein's iconic score) and wildly stylised reinvention.
A 12-person ensemble emulates the bustle and noise of New York's docks on a bare stage, with a choreographed ease that often borders on the balletic. (Wait till you see — and hear — their take on the rooftop pigeon coop.) If you're in London, you owe it to yourself to take a break from the movies, and check out this rather ingenious production.
It got me thinking, however, about the enduring quality and malleable power of a film that makes it so open to such radical re-viewing and retelling 55 years on. The Academy may not have known it, but they lucked into honouring a true future standard that year. Will any of this year's nominated crop be inspiring that level of thought in the latter half of this century? I suspect not.