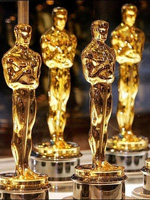 Well, this is it.  The big show is Sunday night and we're pretty much out of things to discuss at this stage, no?  But I've gone ahead and wrangled up all of our contributors' predictions in each category.  Trust who you must, but really, pray for a surprise.  Right?
In the realm of "ballsy" calls, I guess you can look no further than Guy's prediction that "The Class" will upset "Waltz with Bashir" in the foreign language film category, which I discussed at length earlier this morning.  He's also stuck his neck out for a "Slumdog Millionaire" sweep, much like Nathaniel Rogers did a week ago. I really wanted to go there. I really, really did, but the sound categories.  The friggin' sound categories.
As we've mentioned, people tend to forget that the Academy at large doesn't exactly know from good sound mixing and sound editing, so "WALL-E" is perhaps a bit vulnerable in those fields, while "The Dark Knight" might be too safe a choice. I've talked to a number of people who seem to think "Slumdog" will be checked off down the line, though, so perhaps Guy and Nat are onto something there.
Me, I don't have too many surprise predictions, as I'm sure you've already read.  I'm sticking with "Man on Wire" in the doc feature category, despite my spit-balling otherwise.  And even though I have a strong sense that "Departures" is waiting to surprise "Waltz," I don't feel like sticking my neck out.  (UPDATE: Spoke too soon.)
I am, however, going with my gut on Mickey Rourke in the much-anticipated lead actor race, and it looks like I'm joined by Guy, Brian and Blake on that here.
John seems to be expecting a big night for "The Dark Knight," predicting wins in both sound categories as well as Best Film Editing, which would be the same hat trick "The Bourne Ultimatum" pulled off last year.  But he's also banking on a win in the cinematography category, which would certainly make this writer a happy camper.
Blake is banking on the Bat's victory in the art direction and makeup fields, where the rest of us expect "The Curious Case of Benjamin Button" to prevail, while Brian is predicting a clean sweep for "WALL-E," including the original screenplay category, which looks to be another one of the night's most exciting races.  He's joined by Guy on that, while John, Blake, Gerard and I are taking the safe route and placing our chips on Dustin Lance Black's work on "Milk."
Despite those minority calls, we all seem to be in agreement on Best Picture ("Slumdog"), Best Director (Danny Boyle), Best Actress (Kate Winslet), Best Supporting Actor (Heath Ledger), Best Supporting Actress (Penelope Cruz), Best Adapted Screenplay ("Slumdog"), Best Visual Effects ("Button") and Best Animated Feature Film ("WALL-E").  Everything else represents something of a menagerie.
Take a look at our individual picks after the jump.
GUY LODGE:
Best Picture: "Slumdog Millionaire"
Best Director: Danny Boyle, "Slumdog Millionaire"
Best Actor: Mickey Rourke, "The Wrestler"
Best Actress: Kate Winslet, "The Reader"
Best Supporting Actor: Heath Ledger, "The Dark Knight"
Best Supporting Actress: Viola Davis, "Doubt"
Best Adapted Screenplay: "Slumdog Millionaire"
Best Original Screenplay: "WALL-E"
Best Art Direction: "The Curious Case of Benjamin Button"
Best Cinematography: "Slumdog Millionaire"
Best Costume Design: "The Duchess"
Best Film Editing: "Slumdog Millionaire"
Best Makeup: "The Curious Case of Benjamin Button"
Best Music (Original Score): "Slumdog Millionaire"
Best Music (Original Song): "Slumdog MIllionaire" ("Jai Ho")
Best Sound Editing: "Slumdog Millionaire"
Best Sound Mixing: "Slumdog Millionaire"
Best Visual Effects: "The Curious Case of Benjamin Button"
Best Animated Feature Film: "WALL-E"
Best Foreign Language Film: "The Class"
Best Documentary Feature: "Man on Wire"
Best Documentary Short: "The Conscience of Nhem En"
Best Short Film (Animated): "This Way Up"
Best Short Film (Live Action): "Toyland"
JOHN FOOTE:
Best Picture: "Slumdog Millionaire"
Best Director: Danny Boyle, "Slumdog Millionaire"
Best Actor: Sean Penn, "Milk"
Best Actress: Kate Winslet, "The Reader"
Best Supporting Actor: Heath Ledger, "The Dark Knight"
Best Supporting Actress: Penelope Cruz, "Vicky Cristina Barcelona"
Best Adapted Screenplay: "Slumdog Millionaire"
Best Original Screenplay: "Milk"
Best Art Direction: "The Curious Case of Benjamin Button"
Best Cinematography: "The Dark Knight"
Best Costume Design: "The Duchess"
Best Film Editing: "The Dark Knight"
Best Makeup: "The Curious Case of Benjamin Button"
Best Music (Original Score): "Slumdog Millionaire"
Best Music (Original Song): "Slumdog MIllionaire" ("O…Saya")
Best Sound Editing: "The Dark Knight"
Best Sound Mixing: "The Dark Knight"
Best Visual Effects: "The Curious Case of Benjamin Button"
Best Animated Feature Film: "WALL-E"
Best Foreign Language Film: "Waltz with Bashir"
Best Short Film (Animated): "Presto"
Best Short Film (Live Action): "The Pig"
GERARD KENNEDY:
Best Picture: "Slumdog Millionaire"
Best Director: Danny Boye, "Slumdog Millionaire"
Best Actor: Sean Penn, "Milk"
Best Actress: Kate Winslet, "The Reader"
Best Supporting Actor: Heath Ledger, "The Dark Knight"
Best Supporting Actress: Penelope Cruz, "Vicky Cristina Barcelona"
Best Original Screenplay: "Milk"
Best Adapted Screenplay: "Slumdog Millionaire"
Best Art Direction: "The Curious Case of Benjamin Button"
Best Cinematography: "Slumdog Millionaire"
Best Costume Design: "The Curious Case of Benjamin Button"
Best Film Editing: "Slumdog Millionaire"
Best Makeup: "The Curious Case of Benjamin Button"
Best Music (Original Score): "Slumdog Millionaire"
Best Music (Original Song): "Slumdog Millionaire" ("Jai Ho")
Best Sound Editing: "WALL-E"
Best Sound Mixing: "The Dark Knight"
Best Visual Effects: "The Curious Case of Benjamin Button"
Best Foreign Language Film: "Waltz with Bashir"
Best Animated Feature Film: "WALL-E"
Best Documentary Feature: "Man on Wire"
Best Documentary Short: "Smile Pinki"
Best Short Film (Animated): "Presto"
Best Short Film (Live Action): "The Pig"
BRIAN KINSLEY:
Best Picture: "Slumdog Millionaire"
Best Director: Danny Boyle, "Slumdog Millionaire"
Best Actor: Mickey Rourke, "The Wrestler"
Best Actress: Kate Winslet, "The Reader"
Best Supporting Actor: Heath Ledger, "The Dark Knight"
Best Supporting Actress: Penelope Cruz, "Vicky Cristina Barcelona"
Best Adapted Screenplay: "Slumdog Millionaire"
Best Original Sceenplay: "Milk"
Best Art Direction: "The Curious Case of Benjamin Button"
Best Cinematography: "Slumdog Millionaire"
Best Costume Design: "The Duchess"
Best Film Editing: "Slumdog Millionaire"
Best Makeup: "The Curious Case of Benjamin Button"
Best Music (Original Score): "WALL-E"
Best Music (Original Song): "WALL-E"
Best Sound Editing: "WALL-E"
Best Sound Mixing: "WALL-E"
Best Visual Effects: "The Curious Case of Benjamin Button"
Best Animated Feature Film: "WALL-E"
Best Foreign Language Film: "Waltz With Bashir"
Best Documentary Feature: "Man On Wire"
Best Documentary Short: "The Final Inch"
Best Short Film (Animated): "Presto"
Best Short Film (Live Action): "Toyland"
BLAKE RUTHERFORD:
Best Picture: "Slumdog Millionaire"
Best Director: Danny Boyle, "Slumdog Millionaire"
Best Actor: Mickey Rourke, "The Wrestler"
Best Actress: Kate Winslet, "The Reader"
Best Supporting Actor: Heath Ledger, "The Dark Knight"
Best Supporting Actress: Penelope Cruz, "Vicky Cristina Barcelona"
Best Adapted Screenplay: "Slumdog Millionaire"
Best Original Screenplay: "Milk"
Best Art Direction: "The Dark Knight"
Best Cinematography: "Slumdog Millionaire"
Best Costume Design: "The Duchess"
Best Film Editing: "Slumdog Millionaire"
Best Makeup: "The Dark Knight"
Best Music (Original Score): "Slumdog Millionaire"
Best Music (Original Song): "WALL-E"
Best Sound Editing: "Slumdog Millionaire"
Best Sound Mixing: "WALL-E"
Best Visual Effects: "The Curious Case of Benjamin Button"
Best Animated Feature Film: "WALL-E"
Best Foreign Language Film: "The Class"
Best Short Film (Animated): "Presto"
Best Short Film (Live Action): "Toyland"
Best Documentary Feature: "Man on Wire"
Best Documentary Short: "The Conscience of Nhem En"
KRISTOPHER TAPLEY:
Best Picture: "Slumdog Millionaire"
Best Director: Danny Boyle, "Slumdog Millionaire"
Best Actor: Mickey Rourke, "The Wrestler"
Best Actress: Kate Winslet, "The Reader"
Best Supporting Actor: Heath Ledger, "The Dark Knight"
Best Supporting Actress: Penelope Cruz, "Vicky Cristina Barcelona"
Best Adapted Screenplay: "Slumdog Millionaire"
Best Original Screenplay: "Milk"
Best Art Direction: "The Curious Case of Benjamin Button"
Best Cinematography: "Slumdog Millionaire"
Best Costume Design: "The Duchess"
Best Film Editing: "Slumdog Millionaire"
Best Makeup: "The Curious Case of Benjamin Button"
Best Music (Original Score): "Slumdog Millionaire"
Best Music (Original Song): "Slumdog Millionaire" ("Jai ho")
Best Sound Editing: "The Dark Knight"
Best Sound Mixing: "The Dark Knight"
Best Visual Effects: "The Curious Case of Benjamin Button"
Best Animated Feature Film: "WALL-E"
Best Foreign Language Film: "Departures"
Best Documentary Feature: "Man on Wire"
Best Documentary Short: "The Conscience of Nhem En"
Best Short Film (Animated): "La Maison en Petits Cubes"
Best Short Film (Live Action): "Toyland"