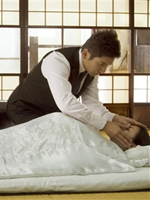 Now that I've finally seen Japanese foreign film contender "Departures," the last of the year's nominees that had yet to cross my path, I thought it a good idea to go ahead and toss up a final look at the foreign language film category.  Over the last few weeks I've dived into the short film nominees, the doc shorts and the doc features.  This is the last of those categories, which require voters to see all of the nominees before being permitted to vote.
I spent the last two days with all of the foreign contenders, re-watching "The Baader Meinhof Complex," "The Class" and presumed frontrunner "Waltz with Bashir" and finally taking in the bleak "Revanche," as well as "Departures."  The question I'm left with, much as I was in the documentary feature category a few days back (in a piece that was largely taken out of context across the net) is this: have we succumbed to the group think yet again?  Because I have a feeling "Departures" is waiting to spoil.
It's a beautiful film in a lot of ways, certainly not a more artistic achievement than "Waltz" but the kind of soft, safe, solid work that tends to take out the frontrunner in this category time and again.  It deals with death in a really affecting way, at once eerie, humorous and, ultimately, moving.  When it threatens to pass into trite territory, it finds a way to stay fresh and alive, very human and absolutely satisfying.
When you look back over the history of this category, you see a certain bias against non-traditional filmmaking.  The fantasy of frontrunner "Pan's Labyrinth" fell to the straight-forward "The Lives of Others," a moment relatively few of us saw coming but seemed totally rational for many in hindsight.  The epic "Hero" and the artfully renderd "The Man Without a Past" both lost out to the classic stylings of "Nowhere in Africa" while the whimsy of "Amélie" fell to "No Man's Land."  It happens.
So why, exactly, is it a foregone conclusion that an animated documentary hybrid film will walk away with the Oscar?  Certainly the excuse isn't: "Because it's the best of the nominees," right?  It's a sentiment I happen to agree with, but that argument never holds water.  What's more, the film is a mere 90 minutes, while every other nominee stretches past the two hour mark.  You might think a shorter entry would be a respite to voters, but only three times in the last 10 years has the shortest film won.  And each of those was more than 90 minutes long.
I wrote up a brief review of "Waltz" back in August, a few months after the Cannes premiere (where the film actually lost the Palme d'Or to another contender here, "The Class").  It has grown on me more and more and I definitely smiled at that NSFC victory.  The final moments of the film hit you in the stomach, and Ari Folman is a charmer, I'd say.  The film's message is righteous and self-reflective, a real work of art.  But the Academy has already shown in its snubbing of "Revolutionary Road" that downer cinema isn't all that compelling given the country's state of economic and political flux.  Just look at the big frontrunner, "Slumdog Millionaire," one of the most hopeful, energetic films of the year.
Götz Spielmann's "Revanche" is probably bringing up the rear for these reasons.  It is a very flavorful film, one built on the subdued performances of its actors.  But it is a stark film as well, one that is hardly the easy, life-affirming watch that "Departures" is, and if something more sober is to win, it's likely going to be "Waltz" before this Austrian entry.  I'm somewhat surprised "Revanche" could find room where "Three Monkeys" could not, however.  Maybe the sex was a turn on.  Hey, I'm just guessing!
Laurent Cantet's "The Class" is largely seen as Folman's competition.  It is a fascinating social study, one that raises insight after insight and certainly found a certain appeal in an increasingnly multicultural Europe (not that we're far behind in that regard).  But it is also extremely talky in a way that could make voters feel as if they're taking a crash course in speed reading.  I don't think I buy it as a formidable contender to Israel's preseumed throne this year.
"The Baader Meinhof Complex," to round it out, is the most accessible film of the lot.  At 150 minutes, it boasts the most impressive run time (the longest nominee has only won twice in the last 10 years), but it also captures the zeitgeist in a different, more conventional way than "Waltz."  I like it quite a bit.  But all that adherence to "convention" and "accessibility" might come off as pedestrian as a result.  There's not necessarily anything here we haven't seen before.  And while "Departures" is certainly pedestrian on some level, it is also quite an original vision, rendered in different hues and unusual brushstrokes throughout.
I see this morning that Tom O'Neil is predicting the Japanese entry for the win, while others seem to be coming around to the notion that it's likely nipping at Folman's heels, so be warned.  This year, one of inflated likelihoods and "boring" expectations is ripe for surprises.